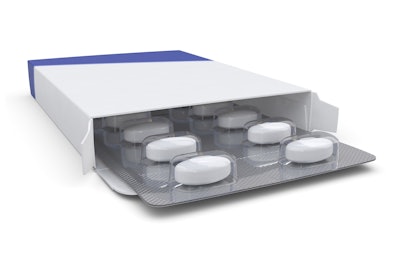 A new Grand View Research global pharmaceutical packaging market report forecasts growth to reach US$158.8 billion by 2025. The growing demand for pharmaceuticals coupled with increased emphasis on product packaging is expected to drive market growth.
Some key findings from the new report include the following:
• The aluminum foil material segment is projected to increase at a 7.2% Compound Annual Growth Rate (CAGR) from 2017 to 2025 due to rising demand for packaging of special purpose drugs.
• Paper and paperboard is the second-largest product segment and is expected to reachUS$40.83 billionby 2025 from growing demand in secondary packaging products.
• Blister packs in the primary pharmaceutical packaging product category is expected to grow at a 9.2% CAGR from 2017 to 2025 on account of growing demand in oral drugs.
• The Asia-Pacific market share is expected to reach 33% in 2025 owing to growing demand for pharmaceuticals and the presence of large number of plastic manufacturers.
• TheMiddle East&Africawill grow at a 5.6% CAGR from 2017 to 2025 backed by growing demand for medicines in Tanzania, Nigeria and South Africa.
• The market is highly dispersed due to the presence of a large number of small and large manufacturers.
GVR notes the pharmaceutical packaging market comprises a wide array of products. The demand for these products is expected to grow rapidly on account of fortification of medicines and drugs against exterior impacts. However, the packaging materials and products need to bear the brunt of stringent government regulations and growing market for counterfeit pharmaceuticals.