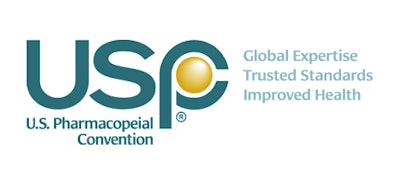 Listen to a presentation by Mary Foster and you're likely to hear her call for involvement in industry-related organizations to help shape a better future for patients, and for the pharmaceutical, biologic, and medical device communities.
Her May 16 presentation at an Almac event focusing on patient compliance and counterfeiting was no exception. Foster, the U.S. Pharmacopeia's (USP) Chair Expert Committee, Packaging, Storage and Distribution, did not miss an opportunity to seek industry involvement at the Almac event. She emphasized that USP needs more pharma industry input for its activities, and she called for volunteers.
Foster pointed out that not all pharmaceutical industry members were aware of USP's mission and activities, or how the agency interacts with the FDA. When only about 10% of Almac event attendees indicated they were aware of USP's activities in the area of the supply chain, for instance, Foster said, "You've put a dagger in my heart!"
According to Foster, among the most significant outcomes of her committee's work this year will be in Good Distribution Practices (GDPs) for pharmaceuticals, and in the areas of quality management systems, environmental conditions management, importation and exportation management, and supply chain integrity and security. Foster pointed out that, according to logistics provider UPS' latest supply chain survey findings, the two biggest supply chain concerns are regulatory compliance and product security. For the first time, product security jumped ahead of cost management as an area of concern.
Foster used her time at the podium to advocate for USP, pointing out that subject-matter experts are always needed to participate in committee work and lend their own viewpoints and knowledge. That's exactly what happened to Foster, a pharmacist by training:
"I was invited to attend a meeting USP held on package integrity testing," she explained. "This led to other invitations and a recommendation that I consider volunteering to work on the expert committee for packaging, storage, and distribution of drugs.
"My experience with the first meetings made me realize how valuable expert knowledge and experience is with the USP writing process. It also provides those who tend to work a few hours more than 40 hours/week an opportunity to give back. The USP endeavor has been exceptional, great fun, and I have met the best-of-the-best within the committee and the associated activities."
More about USP
USP's stated mission is to improve global health through public standards and related programs that help ensure the quality, safety, and benefit of medicines and foods. Among its most important activities are these:
• Set standards for the identity of medicines, food ingredients, and dietary supplements as well as for their quality, purity, and strength.
• Provide drug standards (for naming/identity, strength, quality, and purity, as well as packaging and storage) that are enforced by the FDA under the Federal Food, Drug, and Cosmetic Act.
• Provide the Reference Standards, carefully measured chemical and physical samples, that are key tools used in the tests and methods to measure conformance to the written standards and quality assurance requirements.
• Promote medication safety via standards for drug naming and cautionary labeling of injectable drug products.
• Help manufacturers to meet good manufacturing practices (GMPs) through voluntary inspections. USP awards a mark to ingredients and products that pass USP's verification requirements.This mark helps ensure that consumers receive quality products.
For more information on volunteering on a USP committee, contact USP at [email protected], or call 301-816-8151.
Visit here for more links to USP stories on www.HealthcarePackaging.com.
Companies in this article