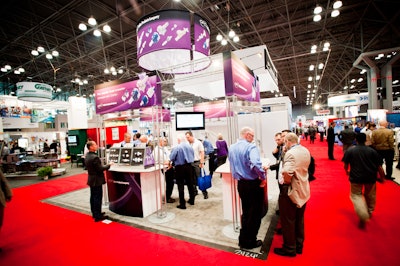 Interphex 2014 exhibition hours will be from 10 a.m. to 5 p.m. March 18 and 19, and 10 a.m. to 3 p.m., March 20.
At least 1,000 product lines will be showcased, including bioprocess equipment, systems and services; cleanroom equipment and supplies; contract research, developing, manufacturing, and packaging; facility design; laboratory and testing services; laboratory instrumentation QA/QC; material handling, logistics, and transportation; packaging equipment and accessories; process automation, controls, and monitoring; processing equipment; and raw materials/ingredients.
The event's educational program will be produced by the Parenteral Drug Assn. The current three-day session schedule may be downloaded from the show's website. PDA Education@INTERPHEX will feature the following: Industry Trends and Regulatory Expectations, Biopharmaceutical and Sterile Manufacturing, Pre-filled Syringe and Drug Delivery Technology, Supply Chain for the 21st Century and Parenteral Packaging.
Interphex 2014 will also include the following:
• Innovation stages on the show floor featuring free content.
• Roundtables, panel discussions, and keynote presentations covering Continuous Manufacturing for Solid-Dose Drugs, High-Potency Manufacturing (APIs/finished drugs), Cleaning Validation, and more.
• Walking show-floor tours offering insight into the latest equipment, innovation, and manufacturing technologies. These include Biomanufacturing, Advanced Aseptic, Oral Solid Dosage, Modular Construction, and Inspection & Packaging.
• A Students and Young Professionals Program, with sessions focusing on the overview of popular dosage forms, Phase IV Clinical Trials, Pharmacovigilance or Post-Marketing, concepts of a Product Life-Cycle approach to manage drug products, interviewing and resume writing and use of social media.
Companies in this article