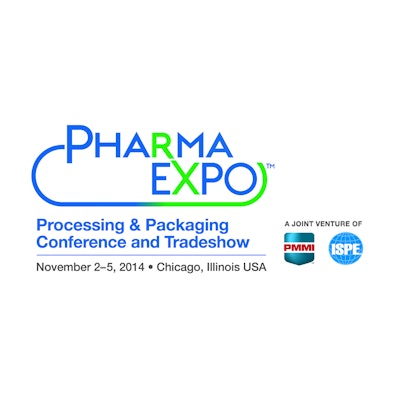 PMMI, owner and producer of the PACK EXPO trade shows, and the International Society for Pharmaceutical Engineering (ISPE) announce the debut of Pharma EXPO, a new event designed to connect pharmaceutical, medical device, and nutraceutical manufacturers with the packaging, processing, and other supply chain technologies they need to meet rigorous industry regulations and grow business. The event will debut in 2014 and co-locate with PACK EXPO International (November 2-5, 2014; McCormick Place, Chicago.
The vision for Pharma EXPO is to be the world's leading event for the pharmaceutical and medical industries. In addition to the exhibits portion of the event, which is designed to meet the needs of manufacturers and suppliers, ISPE will produce a world-class conference program, scheduled to take place during the show. Attendees will have an opportunity to see cutting-edge technology in packaging and processing and attend conference programs that address common challenges in the pharmaceutical lifecycle.
"Pharma EXPO is part of our strategy to make it more efficient for attendees to find the technologies they need," says Charles D. Yuska, president and CEO of PMMI. "By partnering with ISPE, which is over 20,000 members strong, with a very robust knowledge and learning program, we can combine the best aspects of PACK EXPO with deep industry knowledge and insight to deliver a first-class event for the industry."
"At our core, ISPE is about preparing our members to lead global change and innovation in pharmaceutical manufacturing sciences and technology," says Nancy Berg, president and CEO of ISPE. "This venture event will provide a new vehicle to achieve that goal and provide members with a unique opportunity to be inspired by ideas and technologies developed for other industries."
PACK EXPO has always had a strong presence in pharmaceutical and medical device manufacturing. Historically, upwards of 18% of end-users who attend PACK EXPO have identified themselves as pharmaceutical and medical device manufacturers, while one-third of all the exhibitors at PACK EXPO are suppliers to the pharmaceutical industry. The partnership of ISPE, the world leader in pharmaceutical engineering and manufacturing, and PMMI, the world leader in packaging and processing, will make Pharma EXPO a leading pharmaceutical industry event. The show will offer the attendees exposure to the latest technologies, the opportunity to attend a full range of education sessions, as well as networking with industry professionals.
The co-located PACK EXPO International and Pharma EXPO are expected to attract 48,000 attendees, 2,000 exhibiting companies, and more than 1.1 million net sq ft of exhibit space in 2014. Additional information about the new show will be released in the coming months.