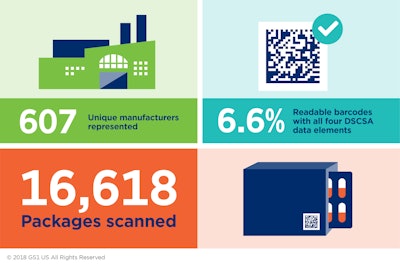 As enforcement deadlines approach for the Drug Supply Chain Security Act (DSCSA) and the U.S. FDA Unique Device Identification (UDI) rule, pharmaceutical and medical device suppliers are working diligently to implement standards-based product and device identifiers to comply.
Pharmaceutical companies eye November
A barcode assessment conducted by AmerisourceBergen and McKesson Pharmaceutical, in collaboration with GS1 Healthcare US—just six months before the November 2017 deadline—found only 6.6% of 16,618 pharmaceutical packages scanned met the DSCSA requirement for a readable barcode with four data elements.
Most pharmaceutical companies are now focused on meeting DSCSA Phase II requirements before the FDA's extended November, 2018 enforcement deadline. Based on the assessment, the participants developed recommendations for industry peers striving toward compliance. Among them: industry-wide collaboration.
Providers leverage standards for UDI
Labeling on most medical devices will have to include a unique device identifier in human- and machine-readable forms by 2020. Two leading healthcare providers – CentraState Healthcare System (CentraState) and Mercy, the fifth-largest Catholic healthcare system in the U.S.– leveraged the work done by manufacturers to meet UDI requirements. Both documented major benefits in their operating rooms by leveraging the barcode, which resulted inimproved operational efficiency, productivity, cost capture and patient safety.
CentraState reported its ability to quickly and accurately identify surgical products with GS1 Global Trade Item Numbers (GTINs) will enable the required "meaningful use "UDI capture on implantable devices in patient electronic health records (EHRs)–making data interoperable between CentraState, insurers and patients. By scanning product GTINs encoded in the barcodes, CentraState saved substantial time in its OR — approximately 67% or one minute per product. With approximately 7,000 operations a year, those savings add up.
Mercy indicated that charge capture in its highest cost practice area—surgery—improved 28-30%, and barcodes accelerated pre-op and post-op processes because information is instantly available and inventory replenishment is vastly improved.
Ensuring barcode integrity
Interoperability is the ultimate intent of the regulations and standards play a foundational role in achieving this. The outcome of these efforts addresses the issue of reducing the introduction of counterfeit products as products move from supplier to patient.
A recent report stated that 103 "male enhancement supplements" recalled by FDA in 2016-2017 were marked with UPC codes that did not point to the actual product manufacturer. Byconfirming brand ownership through the GS1 Global Party Registry, healthcare providers and retailers can reduce the risk of inaccurate product identification.
Accurate manufacturer and product information facilitates inventory control, returns, warranties, refunds, recalls and many other aspects of a product's journey from manufacturer to end use. Companies that license a GS1 Company Prefix can create their own valid, traceable product/device identification numbers using two methods, either of which will ensure barcodes are created properly.
1) They can employ barcode printing companies with certified GS1 Standards experts on staff.
2) Or they can use GS1 US Data Hub®, an online tool that helps small and mid-sized companies create and manage barcodes and product identifiers.
Blockchain potential in healthcare
A shared database with a distributed, immutable ledger, blockchain will provide a consensus of replicated and synchronized digital data geographically spread across multiple sites. Its decentralized structure makes the data resilient to failure. Blockchain technology could dramatically improve transparency in the healthcare supply chain and thwart counterfeits, significantly improving patient safety as Interpol estimates that one million lives are lost annually due to counterfeit medications, and 30% of pharmaceutical products sold in emerging markets are counterfeit.
Conclusion
Monumental changes taking place in healthcare, including new requirements for accurate product identification, track-and-trace capabilities and accountability, demand system-wide collaboration and significant transformation. Ultimately, leveraging standards supports regulatory requirements while improving patient safety and process efficiencies.
Companies in this article