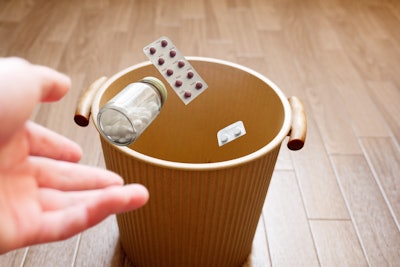 Getty
According to the new white paper, " Pharmaceutical Manufacturing, Trends Shaping The Future," any new packaging format must be validated and certified to meet industry regulations. For instance, any new format must also contain the appropriate closures, seals, and child-proof features required for the particular product.
"We have had some machine issues when using thinner grade materials, and have returned to the original thickness for better quality."
--Director of Engineering, CMO, OTC
---
---
The material must also have sufficient barrier properties to prevent both intrusion from outside environmental factors, as well as internal leeching into or from the product it contains. Material changes can also create additional production challenges, such as second-use materials generating dust during processing, a contaminant that is incompatible with the sanitary environment required for pharmaceutical production.
"When we make dimensional changes to our package, it typically requires a new labeler and revalidating the new format."
--Director of Engineering, CMO, OTC
These extra considerations result in the pharmaceutical industry being slower to take up sustainable packaging alternatives, as they must go through more rigorous testing and validation before being implemented.
---
---