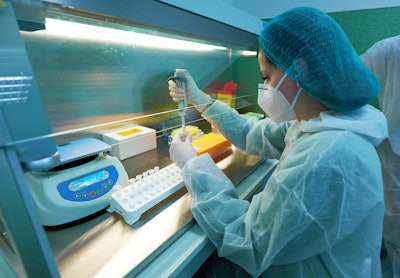 "The future of medicine is biopharmaceuticals using personalized drugs to treat targeted patient care." This statement comes from a Director of Packaging Technology at a large pharmaceutical company, who was interviewed for PMMI Business Intelligence's new report, "Pharmaceutical Manufacturing, Trends Shaping the Future."
The industry focus over the last few years has shifted to pharma delivery methods, in particular injectable medications packed in vials and pre-filled syringes. There has also been an upward trend in more personalized medication packaging. Combined, manufacturers are addressing these trends by reevaluating their filling, packaging, labeling, and coding machinery.
---
---
Another trend is the increased need for throughput, which is driving the expansion of process automation. Manufacturers are looking not only to improve physical processes with automation, but to use digitized data to improve efficiency across operations.
Sustainability and the expansion of direct-to-consumer (DTC) shipping channels for pharmaceuticals are also becoming important factors in manufacturer's production strategies.
The pandemic had a significant impact on production in the pharma industry (as it did with most industries), and supply chain shortages created challenges for manufacturers who struggled with ingredient shortages, packaging material shortages, and extended lead time on equipment deliveries. This in turn created delays for planned projects.
Just how big is the pharmaceutical packaging machinery market? In 2020, the value was $800 million, or 8.5% of overall packaging machinery shipments. In filling and closing machines, the pharmaceutical segment holds a 21.2% share, second to household, industrial, and agricultural chemicals. In the blister, skin, and vacuum packaging machines market, the pharmaceutical segment holds the number one market position with a 46.8% share.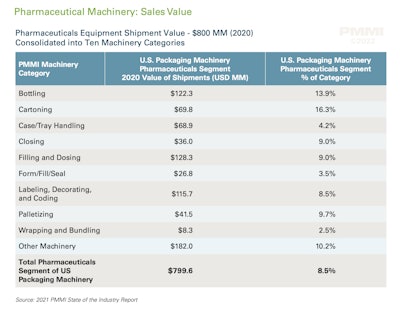 With a forecast to grow at a CAGR of 7.6% by 2026, this section of the market will surpass overall shipments, which is forecast to grow 5.2% over the same period.
Source: PMMI Business Intelligence, Pharmaceutical Manufacturing, Trends Shaping the Future
Download the report for free below.