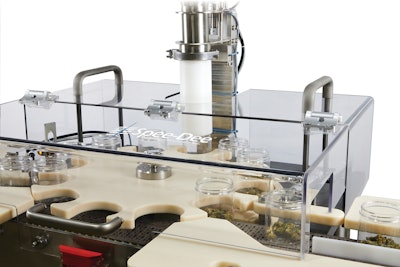 Since medical marijuana represents a portion of the briskly growing cannabis market, we opted to include two innovative cannabis-related packaging technologies in this Pharmaceutical and Medical Device section of our PACK EXPO Innovations Report.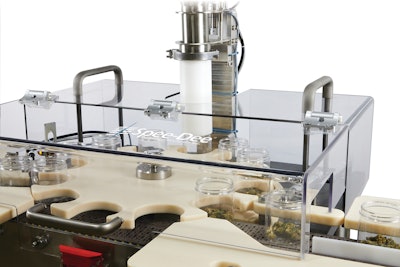 A primary challenge with packaging cannabis is that the weight variance of the empty jar is often greater than the total weight of the product being packaged. A tare gross weighing system eliminates any inconsistencies by weighing the empty jar and then subtracting the weight of the empty jar from the gross weight of the filled jar to determine the actual net weight of product in each jar.
Spee-Dee Packaging Machinery Inc. used PACK EXPO Las Vegas to unveil just such a system. It's a fast, accurate cannabis filling system (1) that accounts for those tiny fluctuations in glass jar weight, thus eliminating problematic inaccuracy that wastes product.
The system's accuracy of 0.01 g reduces costly product loss for fill sizes from 3.5 to 7 g. Vibratory settling helps product flow into containers. The system rejects under and overweights. Integrated with a multi-head weigher, the system provides the fastest, most accurate fills of flower or ground cannabis on the market, according to the company.
In terms of speeds, the system is able to operate more quickly than many producers will need. It accurately fills as many as 40 jars/min with a range of 1 g to 28 g of flower or ground cannabis per jar.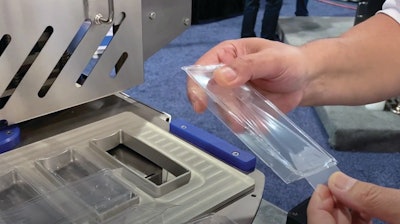 In addition this new cannabis filling system features a simple design that enables thorough cleaning. A sanitary funnel and conveyor system ensures hygienic filling with quick changeover while a stainless-steel frame and open base eliminate harborage areas and allow for easy cleaning. Tool-less, quick-change star wheels and rails enable fast product changeovers.
Orics introduced a new M10 machine (2) designed specifically for a special Child-Resistant package that holds CBD-infused candy bars. The intermittent-motion machine has two tools mounted on a rotary table. The operator loads thermoforms into the four cavities on one tool and then puts a candy bar in each. The operator then presses two buttons to activate the machine. The freshly loaded tool rotates into an evacuation, backflush, and lidding application station. When lidding is in place, the four-cavity tool rotates out of the sealing station, the operator removes the finished packs, and the cycle is repeated.
While much of this is fairly routine MAP procedure, what makes this application notable from an innovation standpoint is that the thermoformed PET container has two notches left and right that are designed to fit into a slot in the paperboard carton into which the primary package is inserted. Children can't read the package-opening instructions on the carton, and thanks to the notches left and right on the primary package, they won't know how to pull the primary package out of the carton. There's also a flap designed into the top of the pack to further impede a child's access to the primary package.
---
---
Innovative containers
An especially clever tablet and capsule container in the plastic category was shown by a company called R&D Leverage, which is primarily a tool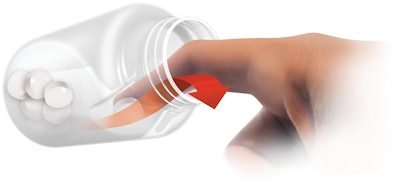 maker for injection molding, blow molding, and injection stretch blow molding machinery. But it has now come up with a patent pending concept for an injection stretch blow molded bottle called DispensEZ (3) with a sort of a ramp on one inner sidewall where the shoulder meets the neck. So when you reach inside to pull out a tablet or capsule, it slides right out on the ramp rather than getting hung up on the inner shoulder. This is clearly aimed at the elderly and others whose dexterity makes pill and tablet dispensing challenging at best.
Senior Molding Expert Kent Bersuch at R&D Leverage is the one who came up with the idea after finding himself frustrated by vitamins and medications getting bunched up in the shoulder of the bottle. "I'd wind up dumping many more pills than I wanted, or the pills would bounce out of my hand and go down the drain," says Bersuch. "Eventually I heated a bottle with a heat gun and molded the shoulder of a bottle to create a ramp." And thus was born DispensEZ.
R&D Leverage, remember, is a maker of tooling, so management has no plans for making bottles on a commercial basis. Instead, says CEO Mike Stiles, the firm is looking for a brand that would either purchase or license the Intellectual Property behind the concept. "We have multiple inquiries from prospects who are currently evaluating our patent documentation and considering options," says Stiles.
Stiles adds that while development work on the DispenseEZ packer bottle relied on using the two-stage reheat-and-stretch-blow process, the convenient dispensing feature can also be incorporated in any of the following methods:
• Single-stage ISBM in PET, PP, and (perhaps) HDPE
• Injection blow in PP or HDPE
• Extrusion-blow using a variety of resins.
The feature is functional over a wide variety of finish sizes (33 mm and larger) and can be incorporated into containers with existing tamper-evident or child-resistant requirements.
---
---
Safe sample transport is an important part of healthcare operations, but many portable carriers that protect temperature-sensitive samples are bulky and heavy. These can be burdensome for sales representatives to carry throughout a typical 8-hour workday.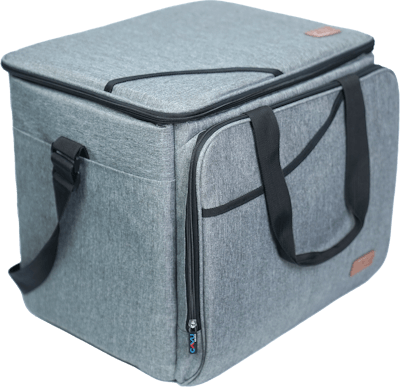 At Healthcare Packaging EXPO, CAVU Group introduced its prote-go: a lightweight sample transportation system (4) that protects temperature-sensitive pharmaceuticals and medical devices from the first meeting of the day through the last.
The company developed the system to transport a variety of content—pharmaceuticals, medical devices, and other biomedical samples—with diverse temperature requirements in all seasons. Weighing less than eight pounds, the carrier is a lightweight product convenient for a salesperson to carry.
The prote-go is a soft-sided, leak-proof tote that can be personalized. "With over 25 L of payload space, the tote has added room for a laptop or other accessories," says CAVU Product Manager David Haan. "Best of all, the prote-go sample carrier does not require lengthy or complicated packing and conditioning processes. Because the system is engineered with phase-change material, the system resets by simply storing the tote overnight, open, and at room temperature."
Next we look at diagnostics, the demand for which has been soaring. Yet packaging diagnostic reagents can be challenging for a number of reasons:
• Strong reagents can interact, or even attack, sealants used with traditional push-through foil options.
• While providing strong barrier, the lidding should pierce easily. Devices require a high degree of repeatability.
• There is a broad range of materials used to create the reagent wells, so lidding must accommodate the container while also being capable of hermetically sealing to narrow sealing surfaces.
Paxxus' AccuPierce pierceable foil lidding (5) is a composite material consisting of a highly controlled aluminum foil paired with Paxxus' chemically resistant, high-barrier Exponent™ sealant—it allows for a clean, quick puncture by probes requiring low force in sensitive testing environments.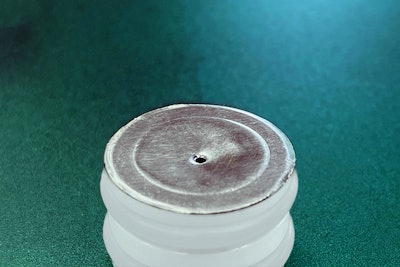 Designed for accuracy in diagnostic applications, it can be used as lidding or as a component within the device itself.
At PACK EXPO, Dwane Hahn explained one very large reason for the boom in diagnostics innovation. "COVID-19 has been for the diagnostic industry what NASA was for materials sciences. When we were trying to land someone on the moon, significant innovation and capital were needed to support the creation of mission critical materials simply because so many had not been invented yet."
While the emergence of COVID-19 is an undeniable tragedy, a by-product of the pandemic has been the influx of innovation and investment. "With COVID-19, the need to scale at an unheard-of pace without sacrificing accuracy presented many challenges. Of course, to solve these challenges, new ideas and concepts were generated as the inherent by-product. When this phenomenon occurs, the investment community takes notice and capital becomes available for startups and large established players alike. The significant investment will undoubtedly change the landscape for diagnostics and in particular the companies that fill the new expectation from consumers for both speed and at-home testing capabilities," says Hahn.
To meet these changing dynamics and market needs, Paxxus developed lidding that is suitable for use with many compounds including dimethyl sulfoxide (DMSO) reagents, organic solvents, ethanol, and isopropanol.
The product is versatile in that it is heat sealable to the most common reagent well materials—polypropylene, polyethylene, and COC—and is compatible with multiple sterilization processes. It is suitable "for DNase, RNase, and human DNA applications," the company reports. "This is not the case for the traditional push-through foil technology which is incompatible with some sterilization processes."
Solutions where volume is not so huge
Sometimes in the life sciences arena it's the solutions that are suitable for small to mid-sized outputs that matter a whole lot. Several of these were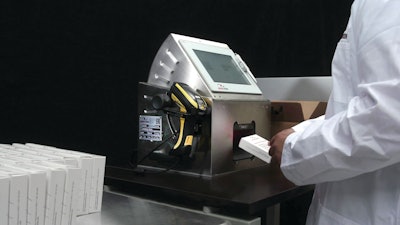 on display at PACK EXPO Las Vegas, beginning with Antares Vision Group. The firm showcased its new standalone module (6) for manual case aggregation at Healthcare Packaging EXPO. Also capable of supporting post-lot reworking operations in warehouses and distribution centers, the system is a fit for those looking to meet upcoming DSCSA supply chain security requirements with small to mid-sized volume outputs that don't require full automation.
Aggregating product is a necessary pre-requisite to sending aggregated data. The recent HDA Serialization Readiness Survey pointed out, "More than 50% of manufacturers were planning to aggregate by the end of 2019 and 2020; now a little less than half are currently aggregating and nearly 40% will do so by 2023. This number is up from a quarter last year, indicating companies have shifted their timelines." Manufacturers will need to implement systems quickly to comply with regulations.
Chris Collins, Sales Manager for Antares Vision Group, notes, "The Mini Manual Station was developed in consideration of the limited amount of real estate most packaging operations are dealing with. Antares wanted to offer a flexible and cost-effective solution to the market with a compact design."
Antares says that following the situation-specific recipe—for example, the number of cartons per case—the Mini Manual Station aggregation unit issues the upper level, "parent" container label once the pre-set quantity of items has been scanned into the system.

As a manual system, the unit is designed ergonomically with easy, multi-point access and an always-on handheld scanner for fast, reliable code reading. The Mini Manual Station is currently operating in pharma, med device, and nutraceutical facilities.
The four benchtop machines that make up groninger's LABWORX Series (7) are designed to help pharmaceutical companies move from bench to market, as well as meet needs in R&D, clinical trials, and compounding pharmacies.
The portfolio includes two liquid filling units—with peristaltic pump or rotary piston pump—and stopper placing and crimping systems for vials and syringes.
Designed for "off-the-shelf" needs, the modules accommodate prefillable objects such as vials, syringes, and cartridges, and feature short lead times and groninger's QuickConnect technology for fast turnaround times.
As groninger's Jochen Franke explained at the show, the systems meet market needs for modernized tabletop systems for several applications, including personalized medicines and cell therapies. Two-hand control of the systems means guarding is not necessary, while hygienic design makes cleaning fast and easy. They are built for laminar flow (LF) hoods and isolators and highly resistant to H2O2.
"The machines are not cam-driven. They're designed with servo motors, which are better for transferring to commercial production systems," says Franke. He demonstrated changeover at the booth, which required less than one minute.
Wireless control via tablet or laptop helps to eliminate extra personnel in cleanrooms while providing connectivity to one or multiple benchtop systems from a single handheld device. Data is more easily accessed for analysis and decision-making. The machines feature responsive HTML5-based HMI design and offer automated batch records as PDF files.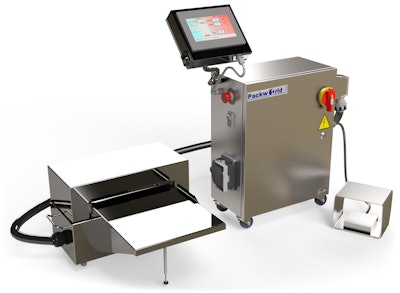 Packworld USA debuted its new PW4214 remote sealer (8) for life sciences, incorporating a sealing head capable of accepting films up to approximately 13 in wide and a divorced control cabinet with a touchscreen HMI.
According to Packworld's Brandon Hoser, the machine developed from the need to fit a more compact sealing head into a glove box. "Having the seal head separate from the controls/HMI allows the operator control access outside of the glove box while reducing the machine footprint inside the glove box," says Hoser.
This compact seal head design is ideal for use within laminar flow cabinets. Easy cleaning surfaces complement biologics and tissue applications, while Packworld's touchscreen interface allows for 21 CFR Part 11 compliance. All Packworld machines are compliant with ISO 11607.
The Pa.-based company notes that an important differentiating feature of Packworld's heat sealers lies in the TOSS technology used—referred to as VRC (Variable Resistance Control)—which does not use thermocouples. Other heat sealers use thermocouples to measure and control the energy heating the seal bands, and a thermocouple's inherently slow characteristics, singular point of measurement, and consumable nature can create consistency issues. TOSS VRC technology "instead measures the resistance of the heat seal band throughout its entire length and width," says Packworld. "It knows what resistance the band needs to be in order to achieve the seal temperature," resulting in quick, accurate, consistent heat seals critical for healthcare applications.
RFID for product traceability continues to gain traction in both the life sciences and the consumer packaged goods arenas. Offerings are now touting high-speed applications that do not disrupt production output. At PACK EXPO Las Vegas, WLS, a ProMach brand, introduced its latest RFID labeling solutions (9). The company has adapted its high-speed pressure-sensitive label applicators and label printers to incorporate new RFID technology for vials, bottles, tubes, syringes, and devices. The offerings featured at the show can also be applied to industries beyond healthcare for authentication and inventory control.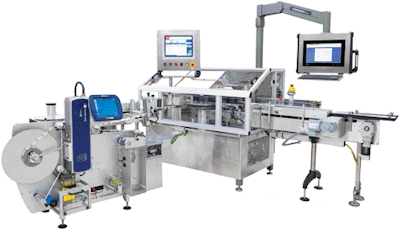 The RFID labels are dynamic in that they can lock in select variable data, while allowing other variable data to be updated through the life of the product. While batch numbers and other identifiers remain static, manufacturers and health systems benefit from dynamic product tracking and updates such as dosages and expiration dates. As the company explains, "This simplifies inventory control for end users while providing product verification and authenticity for manufacturers."
Because customer needs vary from new labeler implementation to modular, off-line options, WLS is launching labelers, label application systems, and print stands:
• RFID-Ready Labelers apply pressure-sensitive labels embedded with RFID inlays from the converter, while preserving the integrity to the RFID chips and antennas. "The RFID labels are read, written (encoded), locked or unlocked (as required), verified, applied to the product, and re-verified (as needed)," WLS reports. Variable data printing with vision inspection systems can be coupled with RFID-Ready Labelers.
• For customers looking to keep their existing labels and incorporate RFID, WLS offers a flexible option in its RFID-Enabled Label Application Systems. The first label head releases a standard pressure-sensitive label onto the vacuum drum while the second label head releases the wet RFID tag, synchronized and centered, onto the standard pressure-sensitive label, enabling the vacuum drum to apply both the wet RFID tag with the standard pressure-sensitive label onto the product. Encoded and verified wet RFID tags are married to the standard label and applied to the product, with a re-verification option if needed.
• For an off-line solution, RFID-Ready Print Stands are designed to print on pressure-sensitive labels embedded with RFID inlays from the converter. "Utilizing an off-line, stand-alone, on-demand RFID-Ready Print Stand allows WLS customers to adopt RFID labeling without altering or upgrading their existing labelers," says the company. "The high-speed RFID-Ready Print Stands incorporate full-label vision inspection with rejected label removal and verification, verifying the printed label and the encoded RFID tag."
Says Peter Sarvey, Director of Business Development at WLS, "The adoption of RFID labels is being driven by pharmaceutical and medical device manufacturers that want to offer improved traceability and product authentication as well as end users who require products with a dynamic fingerprint to track dosages and inventories. RFID labels can be valuable to any industry interested in improving traceability and product authentication, not just hospitals and pharmacies."
A mixer and a capper
Rounding out our coverage of PACK EXPO innovations in the pharmaceutical and medical device space is a pair of machines, one for product processing and one for packaging. On the processing side we look at Marchesini Group's TurboMek (10). It was introduced in 2017, but a new version of the TURBO-MEK 1000 vacuum turbo-emulsifier for processing liquid and cream products appeared at the show offering a more compact and eco-friendly design.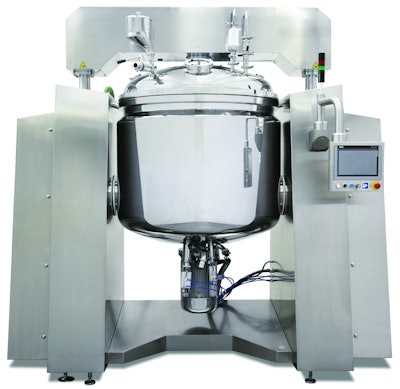 The global skincare market size alone was valued at over $129 billion in 2020 according to Grand View Research, and this is likely to be bolstered further by escalating demand for face creams, sunscreens, and body lotions across the globe.
The TurboMek system is produced by Dumek, a Marchesini Group company that specializes in machinery for processing cosmetics and pharmaceutical products. The new TURBO-MEK 1000 has been designed to accommodate hygiene and cleaning guidelines with energy and water savings during wash cycles.
The system's energy efficiency is thanks to Dumek's patented SMART TC, an intelligent control system that offers energy savings during the heating and cooling stages, as well as more precise control of processing stages for greater repeatability.
High efficiency sprayballs facilitate tank cleaning and a fully automatic clean-in-place (CIP) system allows optimization of wash water consumption.
The turbo-emulsifier features a new touchscreen control panel designed to interface with mobile devices for monitoring and control of processing parameters. A large internal database allows for storage of production recipes. The new version can be easily integrated into a production environment with centralized management using MES/MOM systems.
Which brings us to the final item in this section of our innovations review. It's the beltorque® BT-ICL Lite Capper (11) from NJM, a ProMach brand.
The continuous-motion system offers the same patented torque technology as the standard, high-speed beltorque, but at an entry level price point and at 150 bottles/min. Gentle handling for a variety of bottle shapes and sizes is attributed to two pairs of belts to gently rotate and tighten caps. The speed of the bottle is synchronized with the rotating speed of the closure, which "applies precise torque that eliminates damage to the closure and minimizes cap skew and slippage," according to the company.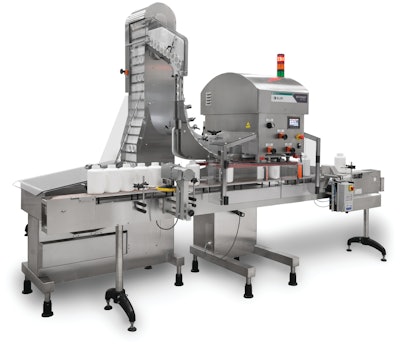 "Many customers tell us that before they installed a new BT-ICL, their traditional disc or spindle cappers were finicky and required near constant supervision. Even during production shifts, their spindle cappers needed manual readjustment to ensure proper handling, which was very labor intensive," says Omar Azam, inside sales manager at NJM. "The BT-ICL is entirely automated, offering repeatable performance without operator monitoring. Customers say the BT-ICL significantly increases their line performance and efficiency."
Suited to nutraceuticals (where systems have already been implemented), cosmetics, personal care products, pharmaceuticals, foods, and more, the system handles round, oval, square, or rectangular bottles made of plastic or glass from 2 to 12 in (51 to 305 mm) in height and from 0.5 to 8 in (13 to 203 mm) in diameter. It can apply child-resistant, flip-top, screw, or snap caps made of plastic or metal in sizes up to 4.75 in (121 mm).
A number of features help manufacturers accommodate a variety of container shapes:
• A container spacing wheel or other spacing device can be added to accommodate various container shapes and sizes as well as product weights.
• When running heavy bottles, dual spacing wheels are used to control container back pressure.
• When running large bottles, fully adjustable dual container gripper belts hold the bottle steady during capping.
• An optional cap inspection system identifies skewed caps, missing caps, missing foil, or fallen bottles and triggers an automatic, heavy-duty reject device. Torque monitoring is also an option.
Seven feet in length, the capper has a compact footprint and can be mounted on standard bottle conveyor. Typical changeovers can be performed in 15 min without tools.
Companies in this article