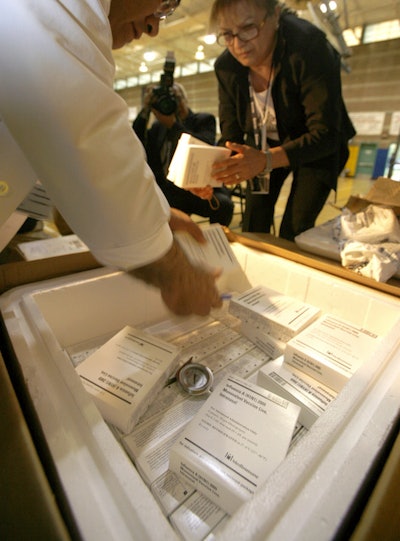 According to new Smithers Pira research, The Future of Active & Intelligent Packaging to 2023, the combined active and intelligent packaging market value will reach $5.68 billion in 2018, with the active packaging market valued at $4.62 billion and the intelligent packaging market valued at $1.06 billion. The combined market is forecast to grow at an annual average rate of 5.9%, hitting $7.56 billion by 2023.
Active packaging demand is being driven by the desire to keep food fresher for longer, to reduce food waste, and to promote more convenient packaging for consumers. Although it is more mature and has slower growth predictions compared to intelligent packaging, there are substantial development opportunities for active packaging technologies in niche markets.
Intelligent packaging, on the other hand, is at a developmental stage of the product life cycle. Intelligent packaging is a dynamic and potentially high-growth market with developments in printed electronics, microsensors, authentication platforms, and the Internet of Things (IoT) driving the adoption of new technologies.
Brand owners want a usable product that adds real value to their brand, not just a technology or sub-component, or a product that is simply a short-term gimmick. Smithers Pira identified five trends that are boosting the appeal of intelligent or 'smart' packaging.
Brand protection firms are already exploiting QR codes and more recently Near Field Communication (NFC) technology to protect against counterfeiting. The key advancement is that these can now be read with a standard consumer smart device, turning the 2.5 billion global smartphone users into an army of product authenticators. Adding further electronic functionality, where it was previously impossible or cost prohibitive, will accelerate this trend.
As consumers can now be empowered to identify counterfeit products at point of sale, pressure is applied backwards through the distribution chain to ensure counterfeit products do not enter the supply chain in the first place. Companies are no longer alone in pushing to solve the problem with expensive inspection and detection resources, as they can rely on the pull from a global enforcement team of NFC-enabled smartphones.
This will become the biggest deterrent against counterfeits. Once an authentication scan has been carried out, the same outlet can be utilized for follow-on engagement work.
The integration of NFC technology into pharmaceutical labels is considered a forward-thinking new development that adds high value. New laws in the EU and North America will soon require unique identifiers to be added to individual drug packets in the form of a 2D datamatrix code.
Smart e-labels offer pharmaceutical companies a wealth of additional opportunities; NFC inlays enable contactless reading by smartphones and thus digital identification of pharmaceuticals. The applications include patient interaction, like dosing advice; automatic recognition of medications by injection systems; process optimization in internal logistics; and brand protection.
Smart pharmaceuticals packaging is not just about tracking and verification. Smart packaging can also include packets that record when tablets are removed, so that patient compliance to a course of treatment can be monitored objectively. The concept can be extended to make drug delivery packs that prompt the user when to take medication at the appropriate time. These provide clear instructions by voice, for example, or a scrolling display in large font. Demand for smart pharmaceutical packaging will grow further with strong gains expected for time-temperature indicator labels, based on growing cost competitiveness and the heightened presence of temperature-sensitive drugs.