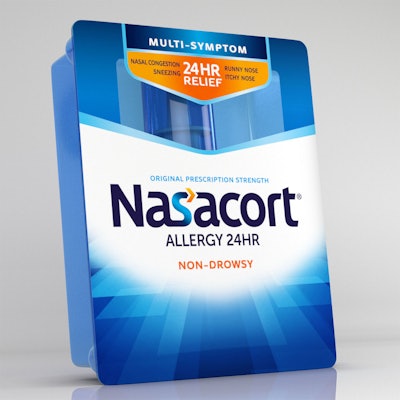 [This story originally ran 4/23/2018]
Embracing positive change helps businesses–and their products—maintain their competitive edge and meet customer/consumer needs.
In 2014, Sanofi Consumer Healthcare Division Chattem Inc., made a considerable change, using package design to help switch its well-known Nasacort Allergy 24HR spray from prescription-only to an over-the-counter product.
Now, four years later, the company is again employing package design to help differentiate the product on shelf, to make it easier for consumers to recognize the product, and to reduce packaging material usage. The change comes just as another Spring allergy season hits.
As allergy sufferers look to OTC shelves to find relief for symptoms such as nasal congestion, sneezing, and itchy, runny nose, Sanofi sought to make it even easier for consumers to find Nasacort Allergy 24HR from competitive products. That's especially challenging given the category's multiple treatment options. Because of that, packaging becomes critical in touting Nasacort, a non-drowsy, scent -and alcohol-free nasal spray that blocks the body's responses to allergens and reduces inflammation in the nasal passages.
"That's why Sanofi redesigned packaging for Nasacort to address new consumer insights and merchandise more efficiently on the shelf," says Whitney Barnes, Sanofi Associate Brand Manager. "This new packaging includes the use of a more modern design and structure.To help maintain brand equity and ensure that existing consumers are not confused or alienated, packaging graphics have been enhanced to boost shelf impact, while retaining certain established brand elements.
"For example, the packaging includes the same colors but in a brighter palette and the same logo, but it is 35% larger. In fact, research showed the new design may increase purchase choice by 19%, compared to the original design. This was accomplished while reducing the overall size of the package 0.5 in."
The new packaging features a window that clearly displays two bottles, which makes Nasacort the only intranasal steroid (INS) to clearly display two bottles in its multi-pack so the value is easily visible to shoppers.
Packaging differentiates product
"While it is not necessarily standard practice to execute a package redesign within four years, Sanofi is committed to providing consumers with the most advanced medicine and to ensuring it's easy for consumers to understand what each of these medicines do," notes Barnes. "When consumers are in store, the package is the primary vehicle for communicating Nasacort's unique benefits. So, the package redesign incorporates the information that resonates with today's consumer, such as 'Non-Drowsy' and '24HR Relief' claims, as well as an easy-open construction."
The packaging change involved the company eliminating a rather unique "N" (for Nasacort)-shaped thermoform. Barnes explains, "This was certainly a distinctive and powerful aspect of the original packaging when Nasacort launched. However, as Nasacort matures in its life cycle, we opted to eliminate this design element in order to gain greater efficiencies in the overall package design. Specifically, repositioning the bottle in the center of the thermoform enabled us to reduce the width of the package without compromising the branding. Consequently, the new package can be more efficiently merchandised, and shoppers are still able to quickly and easily find Nasacort on theshelf as they're shopping for allergy relief."
Sanofi sponsored an online survey of 1,000 U.S. allergy sufferers ages 18 and over that was fielded from January 28, 2018 to February 7, 2018 by market research firm Toluna. The survey, says Barnes, "Found one in four allergy sufferers believe all over-the-counter allergy medicines are the same. But in reality, different medicines have different formulas and active ingredients, which means they may treat different symptoms and provide different kinds of relief. It's important for allergy sufferers to find the treatment option that works best for them."
Addressing this matter involved a collaborative effort across multiple departments within Sanofi. To assist in the Nasacort package redesign, Sanofi worked with LAM Design.
Another important package design issue was revealed by Sanofi consumer research that indicated allergy sufferers wanted to see the bottle contained with the package, so consumers can see the Nasacort bottle(s) both through a window in the lid and through the translucent tray. Consumers also indicated they want to be able to open the package easily, without the use of scissors, so the tray is perforated to facilitate easy opening.
Specifically, Nasacort's new package uses less paperboard and has a smaller footprint, so it uses less material overall. Significantly, the package eliminates a secondary carton that was previously used to ship the package to retailers.
Package components
The redesigned package consists of the following six components:
• A translucent thermoform tray from Innovative Plastics that holds the product along with the consumer leaflet.
• A pressure-sensitive label from Resource Label that lists drug facts and is applied to the outside of the tray so that consumers can readily find this information.
• An SBS lid from MPS-WestRock that's heat-sealed to the tray. When used, electronic security tags are applied to the back of the lid, so they do not come into contact with the bottle.
• A consumer leaflet, also from MPS-WestRock.
• A high-density polyethylene bottle from Nolato Jaycare.
• An overcap from Silvergate Plastics
When the Rx to OTC switch was made, Nasacort's secondary packaging was outsourced. It is now completed on site by Sanofi in Chattanooga, TN.
The redesigned packaging began reaching retail shelves on April 1, 2018, in drug, grocery, mass merchandiser and savings club stores nationwide. It is available in 60-spray and 120-spray bottles, as well as a 240-spray stockkeeping unit (SKU) that contains two 120-spray bottles, and a 360-spray SKU that contains three 120-spray bottles. The packaging redesign also applies to Children's Nasacort Allergy 24HR, available in a 60-spray bottle.
Barnes says, "The trade has responded positively because the new claims help differentiate Nasacort from other products in the category. On a retail shelf with many options, this better enables allergy sufferers to choose the medicine that best meets their needs. Additionally, the reduced package size enables retailers to be more efficient with shelf space within an extremely crowded category."
Companies in this article