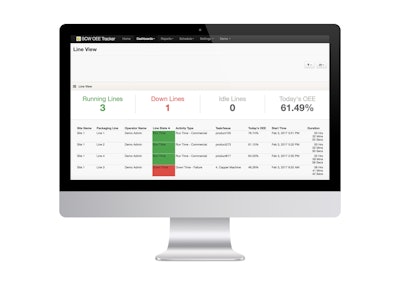 While preparing to meet upcoming serialization deadlines, Par Pharma sought an advanced means of tracking (what it perceived would be) the inevitable efficiency downturn resulting from track-and-trace implementation. For some manufacturers that have integrated serialization products—which often include outfitting or upgrading packaging machinery—post-implementation overall line efficiency has suffered. In some cases, overall equipment effectiveness (OEE) has dropped as much as 30%, though a 5% to10% dip is more typical.
After consulting with Supply Chain Wizard, one question above all others stuck with Par Pharma's executive team: "What is your baseline efficiency now?"
The point was that current efficiency needed to be measured in order to determine what impact serialization "solutions" were going to have on operating efficiency going forward. Convinced that it was time to take action, Par Pharma contracted with Supply Chain Wizard for the installation of OEE Tracker, an OEE measurement and reporting system. Rollout would begin in January 2016.
Operator-friendly, OEE Tracker is an analytics-based system that aims to provide a simple, cost-effective means of measuring and improving line efficiency by uncovering and honing line- and machine-specific challenges and gaps to best practices. OEE Tracker gives Par Pharma a means to utilize the vast amounts of data generated to stay compliant with regulations, especially those pertaining to serialization and aggregation.
The OEE Tracker is scalable for use on multiple lines and at several different production facilities—or can be used on one line at a single site. After meeting with key companies involved, Supply Chain Wizard configured and delivered a fully configured OEE Tracker to Par Pharma in a matter of days. It's designed to track operator activity and tasks, display real-time data via dashboards accessible on traditional computers, tablets and even smartphones.
Starting on a single line
Par Pharmaceutical, an operating company of Endo International plc, is headquartered in Chestnut Ridge, NY. Par develops, manufactures and markets generic and specialty branded pharmaceutical products. These include sterile injectables, alternative dosage forms and many other differentiated products. The company says it is advancinga research and development pipeline of more than 200 potential new products.
Par Pharma decided to test the OEE Tracker on one line—a pilot bottle packaging line. The impact of the installation was immediate, with areas of improvement quickly identified and put into place. Par Pharma executives note how easily and willingly their employees took to OEE Tracker, viewing it as useful tool that could help pinpoint specific inefficiencies and bottlenecks.
For example, easier access to automated records helped decrease downtime; the introduction of touchscreen time tracking eliminated the need to manually fill out time-slips. Line efficiency jumped about 10% right from the start.
Further automation capabilities were introduced to the system via Internet of Things (IoT)/wireless sensor technologies, seamlessly integrated to measure production speeds, start and stop times, enhance data accuracy and integrity. IoT device integration is set to create a foundation for a "digital factory" platform, opening many future opportunities to various data collection, monitoring and exception management capabilities.
"We were impressed—and surprised—that operating personnel were not intimidated by the OEE Tracker," says Aladin Alkhawam, Director of Packaging Operations for Par Pharma. "Due to the Tracker's functional simplicity, and the fact that line improvements were quickly apparent, team members took ownership and pride in the fact that their lines were running more smoothly. One line in particular stood out, as it showed a 20% increase in efficiency within one year."
Expanded implementation
Following this initial success, the OEE Tracker was implemented on all nine of Par Pharma's production lines. Its advanced metrics-providing ability is now utilized for the manufacturer's complete product portfolio, which comprises solid-dose tablet and capsule bottling lines as well as blister, carton and (powder) pouch-filling operations.
"The key to OEE improvement is the digitization of manual data collection methods, along with the utilization of data sharing and reporting features across key operational and business users," explains Evren Ozkaya, Ph.D., CEO of Supply Chain Wizard. "Sharing these digitized results greatly increases effective communication between line operators, engineers and managers, and helps them make educated, data-driven decisions for improving efficiency."
The success experienced by Par Pharma proves this point. In the past, line managers collected mounds of data manually, leading to piles of paper considered too onerous to properly analyze. Since utilizing the OEE Tracker, data collection has been greatly simplified. Problems were identified, analyzed, corrected and implemented, with impressive results.
The OEE Tracker serves as a replacement for Excel files and manual record-keeping, freeing up time managers spent on data gathering and reporting and boosting productivity. Using the OEE Tracker, site managers are able to meet with their teams each morning to discuss live results, compare line and site performance, visualize key performance indicators and process exceptions, and track work orders and schedules. This enables them to support their operators and supervisors in targeting the real root causes of downtime, and helps them increase overall efficiency.
"The gains realized through OEE Tracker, combined with its foundation for a digital factory, provided a strong business case to pursue additional digitalization efforts that focus on areas of high potential improvements," notes Par Pharma's Alkhawam. "It is a collaborative, iterative process between experts, operating and management teams to create and sustain a continuous improvement culture, all of which began and built upon the serialization compliance program efforts."
Since this initial success, Par Pharma and Supply Chain Wizard have been moving forward by incorporating new add-ons to the OEE Tracker. The eventual goal is the creation of a full "digital factory" that optimizes efficiency through data-driven metrics and decision making.
Companies in this article