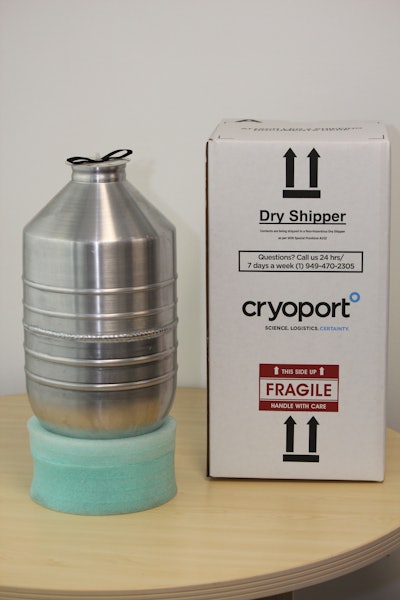 Regenerative medicine and the use of stem cells and biologics offer considerable promise for the treatment of conditions including heart disease, Alzheimer's, Parkinson's, stroke, wound care and diabetes.
One of the companies on the leading edge of this technology is Stemedica Cell Technologies, Inc., which develops and manufactures ischemic-tolerant allogeneic stem cells that support pre-clinical and clinical studies primarily in the areas of neurology, cardiology, ophthalmology and dermatology.
The San Diego-based global biopharmaceutical firm will conduct a Phase II clinical trial to assess the safety, tolerability and preliminary efficacy of allogeneic stem cell-based therapies in the treatment of Alzheimer's disease. Supporting that effort is cryogenic logistics company Cryoport, which recently expanded its contract with Stemedica.
The two companies have worked together since 2015 to safely transport ischemic-tolerant stem cells to clinical research institutions and accredited hospitals worldwide for use in pre-clinical and clinical studies.
Cryoport brings extensive experience handling regenerative medicines, including stem cells and other important life sciences materials to ensure safe shipment of Stemedica's products, with fully documented chain of custody and chain of condition data.
Under the terms of the agreement, Stemedica Cell Technologies uses the Cryoportal logistics management platform, proprietary Cryoport Express® dry vapor shippers and condition monitoring systems to ship human stem cells from collection sites in the U.S. to research centers in Georgia and California. Cryoport's products provide Stemedica with advanced cryogenic logistics and constant monitoring during the entire logistics process.
Dr. Nikolai Tankovich, President and Chief Medical Officer of Stemedica, explains, "We recently demonstrated, through pre-clinical and overseas clinical trial data that intravenous administration of stem cells resulted in a delay of accumulation of plaque formation and also in the reduction of plaque in an animal Alzheimer's model. This Phase II trial will enroll approximately 40 subjects diagnosed with mild to moderate dementia due to Alzheimer's disease and will bring us closer to developing a stem-cell based treatment for humans.
"Using Cryoport's validated cold chain solutions to maintain the integrity of our product line and ensure reliability of delivery to patients across the U.S. is essential to the validity of the trial. Having worked with the team at Cryoport previously, we have no doubt that they are the right partners to support this trial."
Cryoport currently supports more than 78 clinical trials worldwide. The Company's clinical trial clients include ImmunoCellular Therapeutics, Kite Pharma, Gradalis and Perseus PCI.
Stemedica is a government-licensed manufacturer of cGMP, clinical-grade stem cells currently used in U.S.-based clinical trials for acute myocardial infarction, chronic heart failure, cutaneous photoaging, ischemic stroke, traumatic brain injury and Alzheimer's disease.
The company is currently developing additional clinical trials for other medical indications using adult, allogeneic stem cells under the auspices of the FDA and other international regulatory institutions.
Companies in this article