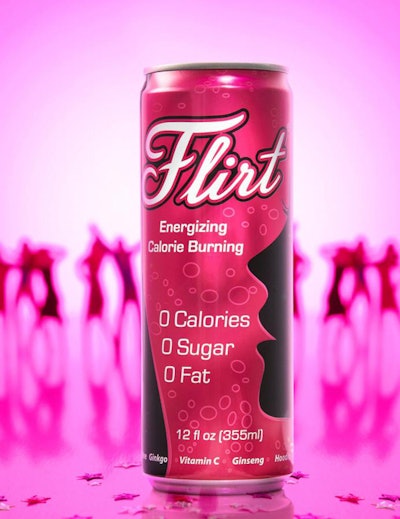 Flirt® Energy Drink, a functional beverage created by women for women, has been improved and is being rolled out in a boldly redesigned
Rexam
12-oz. SLEEK® can, selected for its functionality and sustainability.
Flirt was specifically developed to provide women with a healthier alternative to standard energy drinks. It features zero calories, zero carbs, and no sugar or preservatives. Its green tea-based formula has been enhanced, increasing the vitamin content and boosting the ginseng and ginkgo levels. According to the company, these enrichments strengthen Flirt's ability to deliver effective energy while at the same time providing nutritional value with an essential eight B-vitamin complex, Vitamin C, amino acids, folic acid, and hoodia to help burn calories and provide women extra nutrition throughout the day.
"Flirt is far superior to typical products in the isotonic category in that it delivers the perfect punch of an energy drink but without the negative side effects of harsh stimulants," says Heather Pingrey, CEO, Goddess Energy Inc. "Flirt goes beyond being an effective and needed energy drink for females; it embodies the concept of empowering women. Through our partnership with Rexam, we are able to bring it to market in a great-looking package that will attract everyone's attention."
Flirt recently revamped its look by enhancing the graphics for a more vibrant retail presentation. The company uses Rexam SLEEK cans because their shape ties into the functionality of Flirt, and they are the most sustainable packaging choice, as aluminum cans are recycled at more than double the rate of any other beverage package.
Flirt Energy Drink is currently available at select retailers across the East Coast.
By Anne Marie Mohan, Senior Editor, Packaging World
Companies in this article