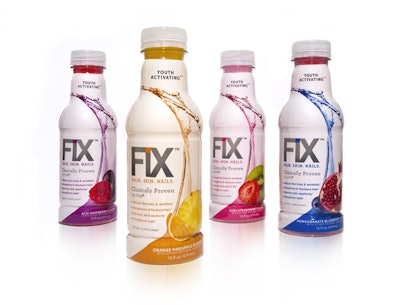 Suggesting a science-backed proposition and crisp, fruit flavors, package design for the new FIX line of anti-aging beverages from Fix Brands, Inc., Walnut Creek, CA, is a balance of "technology and taste," says John Nunziato, creative director for
Little Big Brands
, which developed the look for the new product. FIX, launched nationwide in June in four zero-calorie fruit-flavor combinations, is the first beverage containing choline-stabilized orthosilicic acid (ch-OSA), a compound clinically proven to help the body generate collagen.
According to Fix Brands, clinical trials published in peer-reviewed journals—among them the Archives of Dermatological Research, the Journal of the American Academy of Dermatology, and Skin Research and Technology—indicate that ch-OSA reduces wrinkles by 30%, increases skin elasticity by 87%, and thickens and strengthens hair by 13%.
Given these science-backed claims, Little Big chose to decorate the bottle—a 16-oz, hot-fill PET container from
Amcor
—with a shrink-sleeve label decorated to emphasize both the product's clinical nature and its flavor appeal. The full-body film label is reverse gravure-printed with a white background that, along with the "cleanliness of the design, helps elevate the brand to the beauty category," says Nunziato.
A straightforward hierarchy includes a silver FIX logo in the center of the label, followed by copy that reads, "Hair. Skin. Nails." Other products descriptors, including "Youth Activating," "Clinically Proven," and "ch-OSA," also help communicate the beverage's clinical attributes. Fruit images are positioned at the bottom of the label, with a splash of the colored beverage arching above, to provide a flavor cue.
The label was printed in four-color process, with two spot colors and a reflective foil. Nunziato explains that the foil was used to give the FIX logo extra emphasis and to communicate the science and technology behind the brand. On the challenges of converting the label he says: "Reflective foil can be challenging no matter what the substrate. Finding the right foil for the right substrate and use is important to minimize any recessiveness you can experience in a shelf setting. With shrink, you obviously also have distortion issues that have to be addressed."
Since the FIX line was launched, Nunziato says response to the first-of-its-kind beverage is "extremely encouraging." -Anne Marie Mohan, Editor, Greener Package
Companies in this article