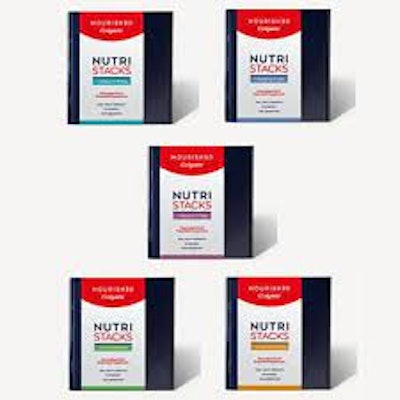 Birmingham, UK-based health tech startup Nourished has announced the launch of Nutristacks, an innovative new range of 3-D printed vitamin gummies that have been developed in partnership with Colgate, the world leaders in oral care. Available for purchase in the UK, the gummies provide consumers with an effective daily oral health supplement, with added benefits for mind and body that align with personal wellbeing goal. Each Nutritstack is 3D-printed on demand to ensure optimum efficacy and higher absorption levels.
Individually wrapped in plastic-free home compostable packaging, Nutristacks can easily be carried around in a handbag or pocket to be conveniently consumed on the go. The range is made up of five key blends, all designed to nourish teeth, strengthen enamel, and control the mouth's pH levels. This is achieved with the use of three core ingredients:
Arginine diffuses around teeth to energize good bacteria in the mouth and strengthen the body's natural defense against cavities.
Xylitol is used to help lower acid production by bacteria, protecting the enamel strength.
Calcium supports a healthier pH in the mouth and the maintenance of normal teeth.
Nutristacks each contain a blend of six different active ingredients: Energy, Zen, Glow, Focus, and Immunity:
Energy Nutristacks are packed with ginseng—a nutrient that can boost energy levels, while reducing oxidative stress.
Zen Nutristacks are packed with Scutell'up—a medicinal plant that can decrease stress hormone levels, anxiety, and depression.
Glow Nutristacks are packed with Vitamin E—a nutrient used to defend against inflammation and free radicals, by maintaining healthy skin and eyes.
Focus Nutristacks are packed with CoQ10—a nutrient that helps augment the immune system, while improving energy levels.
Immunity Nutristacks are packed with ginger—a multi-purpose ingredient used to help strengthen the immune system.
Melissa Snover, CEO and founder of Nourished, says, "We are delighted to be partnering with industry world leaders, Colgate, to deliver this exciting development in personal nutrition—combining our innovative 3-D printing technology with Colgate's unmatched expertise in oral care. Oral health is such a key part of our overall wellbeing, but with so many things to consider when it comes to our health, it is often overlooked. Incorporating Nutristacks into a daily routine is an easy, effective way to maintain good oral health while simultaneously boosting other aspects of our wellbeing, from energy levels to immunity."
"Colgate is reimagining a healthier future for all. One way we fulfil that purpose is by creating additional ways to take charge of your oral health by understanding the links between oral health and overall health and wellbeing—what we call Know Your OQ or oral health quotient," adds Pat Verduin, chief technology officer for Colgate-Palmolive. "We're excited by this partnership with Nourished and the potential of their technology and how Nutristacks can be added to good oral hygiene and regular visits to the dentist to improve oral health."

Companies in this article