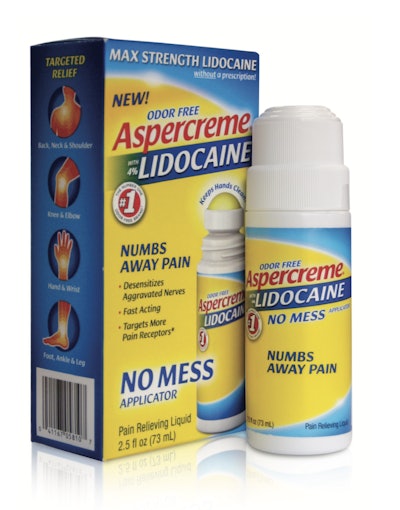 Chattem, Inc.'s Aspercreme with Lidocaine
Pros
+ No Mess Applicator allows roll-on application of odor-free pain-relieving liquid without getting product on consumers' hands
+ Outer carton is not only colorful, but informative, making use of front, back and side panels that offer consumers usage illustrations and instructions
Note: Although the rigid outer paperboard carton provides important usage details, one wonders if lighter-weight, more sustainable material(s) could have served the same purpose?
Navitas Organics' Organic Hemp Seeds
Pros
+ One of several products in the Navitas Organics line, this stand-up pouch demonstrates how package design can convey "natural" in an esthetically pleasing way
+Beautiful graphics identify this plant-based superfood's health benefits, using shades and layers of "organic" greens and pleasing textural feel
Note: Although printing on the back of the pouch says the company celebrates healthy foods and supports sustainable causes, a sentence about the package's use of recycled content or recycled materials would have "closed the loop" here. Without commenting on the pouch's use of such materials, it raises uncertainty about its sustainability.
Blistex Inc.'s Conditioning Lip Serum
Pros 
+ Carded blister packaging provides differentiation from typical lip balms that use minimal packaging
+ Card printing shows Dose Control Pump graphic on front panel, with back-panel details on how the pump "dispenses just the right amount to soften lips with just one drop"
Note: It's understandable that Blistex wanted the lipstick-like container and the carded blister to demonstrate to consumers that this new lip serum differs from lip balms, but did they have to use this much packaging—and upcharge—to make that point?
This is a four-part series. Check out Part 2, Part 3 and Part 4.