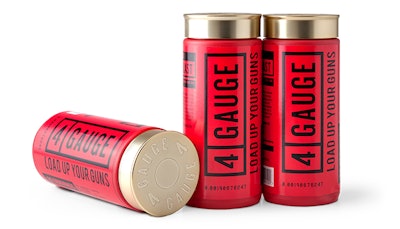 UK-based e-commerce company Roar Ambition knows how packaging can provide punch in differentiating its supplement products. In 2015, for example, it worked with TricorBraun to develop a clenched fist-shaped package to market its Instant Knockout fat-burning supplement for men.
Roar Ambition and TricorBraun also collaborated on an innovative package for 4 Gauge, a pre-workout formula supplement powder that launched in January 2017 in a rigid bottle that resembles a 4-gauge shotgun shell. Two promotional taglines that unite the shotgun-shell package with the product's muscle-building properties say, "Load Up Your Guns," and "When You Need More Ammo to Kill Those Weights!"
TricorBraun sourced a stock high-density polyethylene bottle and a customized PP polypropylene-lined closure with gold metal sheath. The bottle is designed with a raised edge at the top to emulate the edge of a shotgun shell. The body of the package is wrapped in a clear plastic film that provides tamper evidence and retains product quality and freshness.
Robert Parker, Roar Ambition Owner and President, came up with the idea of a bottle that looked like a shotgun-shell casing. "I sleep and daydream a lot—that's where the ideas come from," he explains, "A shotgun comes in different gauges and the lower the number, the more powerful the shot. Four is the lowest but they aren't made anymore. I knew I wanted the color red to coincide with the feeling of energy." The number four in 4 Gauge also represents an all-natural, four-in-1, pre-workout formula designed to enhance raw strength, strong focus, long-lasting energy and intense muscle pumps.
Managing multiple vendors
The 4 Gauge container had to stand out from the competition on social media and other online marketing avenues, given that it's sold directly to customers online. Also, the size of the container needed to be sized to hold a specified amount of powder, and its opening of the container had to be large enough for the contract filler.
Roar Ambition knew that visual disruption would be a critical factor in the success of their new product, created for a popular segment of sports nutrition. The company targets a younger generation of fitness enthusiasts, men and women aged 18 to 35. While powder supplements are often sold in flexible pouches, the theme for this new launch would include a rigid bottle.
Given the successful launch of Instant Knockout, Parker was confident that TricorBraun would provide the results he was looking for with 4 Gauge. The company reports that since the product's launch, sales have grown month over month by 300%.
Parker notes, "Based on past experience, I knew that [TricorBraun's] Joe [Mazzilli] would be able to manage with ease the multiple U.S.-based vendors involved with ease, get samples to me quickly and leverage the design and engineering team to ensure the proper fit of a custom closure with a stock bottle. While Joe and his international team were managing all of this, I was able to remain focused on our website, marketing and order fulfillment."
Packaging development required the management of multiple components from a variety of manufacturers, fillers, and decorators. Mazzilli adds, "Working with multiple partners, we remained mindful of the unique challenges associated with the delivery of e-commerce products as they relate to fit and function. Rob had a vision for differentiation and while we were able to achieve this, we also had an eye to building brand loyalty by delivering on consumer expectations."
Companies in this article