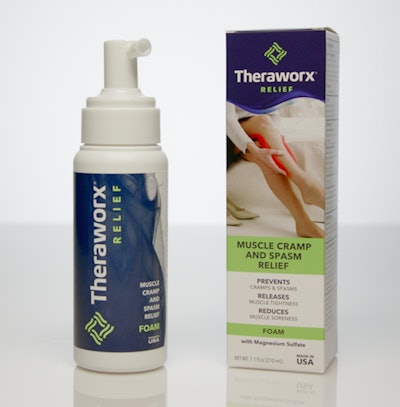 Life sciences company Avadim recently launched its newest topical therapy, Theraworx Relief, in pharmacies nationwide including Rite Aid, to help the 29 million Americans suffering from chronic muscle cramps and spasms.
Theraworx Relief is an easy-to-use, fast-absorbing foam or spray that can be applied daily or as needed to release a cramp quickly—andreduce muscle soreness. Avadim says the product's formulation is made from a proprietary blend of safe ingredients that work with the body's own natural functions to relieve and even prevent cramps and spasms. Safe for daily use, the product does not interfere with medications or other topical products.
Now available for purchase in-stores in a 7.1 oz. foam or spray bottle, Theraworx Relief is available without prescription—and can be found in the pain relief section.
Product packaging consists of a white high-density polyethylene bottle with a wraparound label that provides usage information, drug facts, ingredients, precautions and lot number. A matching white multicomponent pump trigger sprayer is topped with a clear snap-on top cap. This primary package is marketed within a tall vertical paperboard carton printed in blue, green and white color schemes that match that of the bottle label. Carton printing includes a three-step application guide, drug facts and ingredients. The carton bottom is printed with lot number and expiration date.
Asheville, NC-based Avadim preferred not to comment on the specifics of their packaging.