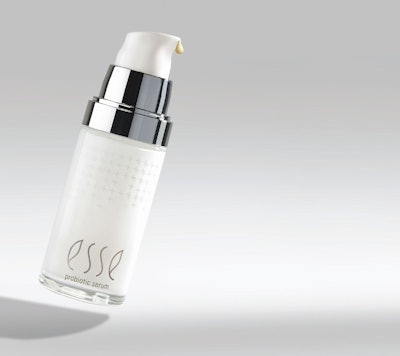 Striking packaging is helping South Africa-based Esse successfully launch its Esse Probiotic Serum skincare line.
Esse uses innovative production techniques, airless glass packaging and a preservative-free formula for its Probiotic Serum, which launched in 2015 as what the company says is the world's first live probiotic serum. The probiotic microbes are encapsulated and suspended in an oil base, reanimating and dividing when they come into contact with water on the skin's surface.
Packaging is supplied by Lumson Cosmetic Packaging Industries. Lumson's Techno Airless Glass System® (TAG) includes a glass bottle and plastic components that provide a tamper-evident closure and an internal collapsible pouch that provides virtually complete product evacuation, without allowing in air.
The glass bottle permits fast, easy top filling without the need for special tooling. Once product is filled into the pouch within the glass bottle, Lumson's Eco-Lock snaps onto the bottle and provides tamper evidence. Packaging permits users to pump out product even when it's held upside down. Once product is dispensed, users can use the Eco-Lock function to separate the plastic components (including the internal plastic pouch) from the glass bottle to facilitate 100% recycling. Watch a video of the packaging here.
Esse's Probiotic Serum contains 1 billion live probiotic microbes/mL. It retails for €130 (US$145) and is available in a 30-mL pump.
Esse notes the efficacy of topical probiotics has been a hot topic in science with more than 5,000 literature references on the "skin microbiome" in 2015. Testing in Germany has shown that the new serum from Esse has the ability to improve skin firmness by an average of 16% in 28 days, with 100% of the 20 test subjects showing an improvement.
The founder of the brand, Trevor Steyn, says, "Genetic sequencing techniques have allowed us to view skin through a new lens. It's now clear that skin is an ecology...an intricate interplay between human cells and microbes. Trying to optimize skin health without considering microbes is archaic. We consider the skin microbiome in every product that we formulate. If skin is an ecosystem, then we'd better not pollute it."
Esse focuses on the salon and spa sector. On its website, Esse describes itself as "certified organic, vegan and cruelty-free." It says, "Esse has subscribed to Ecocert organic standards since its inception. Ecocert enforce minimum organic percentages and bans ingredients deemed unsafe or unsustainable. They also audit our production facility and ensure full traceability of all raw materials. Ecocert regulates the packaging that we use. They make sure that the materials we use are safe for the consumer and don't leach into the product over time. They also oversee the recyclability of the packaging materials."
Companies in this article