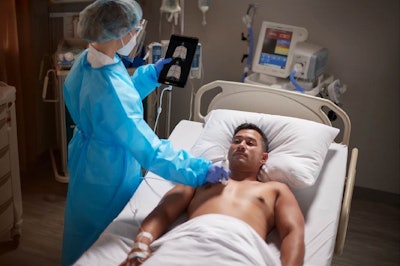 Royal Philips, a global leader in health technology, has expanded its ultrasound portfolio with advanced hemodynamic assessment and measurement capabilities on its handheld, point-of-care ultrasound—Lumify. With the addition of Pulse Wave Doppler, Philips has greatly expanded the utility of its Lumify handheld ultrasound, enabling clinicians to quantify blood flow in a wide range of point-of-care diagnostic applications, including cardiology, vascular, abdominal, urology, obstetrics, and gynecology. Also new to Lumify are obstetric measurements to help in early assessment of gestational age and the identification of high-risk pregnancies.
Pulse Wave Doppler ultrasound provides clinicians with more information, in addition to 2D and color imaging, to assess hemodynamic patterns to differentiate between arterial and venous blood flow and quantify hemodynamic function. The resulting hemodynamic measurements can enhance diagnostic confidence and timely clinical decision-making in virtually any care setting, including cardiology and emergency medicine.
With these latest features, Philips' easy-to-use, fully integrated handheld ultrasound system brings together imaging tools across ultrasound platforms. The Lumify system also provides clinicians with advanced analysis software and reporting tools, and access to tele-ultrasound capabilities (Lumify with Collaboration Live powered by Reacts) for live communication support to connect clinicians around the globe for real-time collaboration.
"By applying Philips' expertise in cardiovascular care, imaging and patient monitoring to Philips handheld ultrasound—Lumify—we are committed to deliver a dedicated, innovative point-of-care portfolio, enabling clinicians to quickly assess hemodynamics—including cardiovascular function, organ perfusion, and fetal assessment—in a daily routine, to identify abnormalities and intervene quickly," says Matthijs Groot Wassink, general manager of point of care ultrasound at Philips. "With the addition of Pulse Wave Doppler and enhanced obstetrics measurements, we have increased the number of markers on which diagnoses can be made, to deliver high-quality imaging and enhance the evaluation and effectiveness of treatment in real time."
The continuous scanning, performance, and portability of Philips Lumify handheld ultrasound brings a full diagnostic solution to care professionals at the bedside, both in and outside of the hospital. The innovative technology is also in widespread use in community-based mother and child care programs, providing access to quality healthcare for underserved communities worldwide, including a program in Kenya driven by the Philips Foundation to educate midwives to deliver ultrasound-based antenatal pregnancy screening in village clinics, while receiving telehealth support from radiologists at distance.
Companies in this article