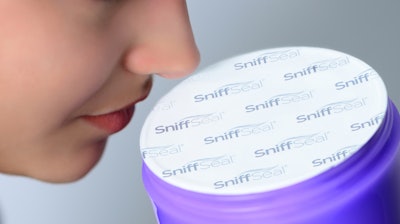 The latest in films for medical device applications, as well as the newest closure liners for food, cosmetic and healthcare products, will be featured by Tekni-Plex's Tri-Seal and Tekni-Films business units during PACK EXPO, Oct. 14-17, in Booth W884 at Chicago's McCormick Place.
Tri-Seal will be exhibiting liners with patented Sniff Seal® technology (shown here). It is reported to be the first liner to enable scent permeation through an induction seal closure liner without affecting the seal or compromising the contents. Product categories including food, beverage, personal care, and cosmetics can benefit from the technology.
Also on display at PACK EXPO will be Luxe® seal closure liners. Foldable, easy-peel Luxe® tabs offer a departure from traditional tabbed liners for premium beauty care products. Luxe® seal liners can be embossed with a logo or brand or cold-foil stamped in the color of your choice.
As a result of the recent Oracle Packaging acquisition, Tri-Seal will also be showing flexible packaging laminates and high-performance lidding products for healthcare, food and beverage and specialty applications. Oracle's laminating, extrusion and coating processes cover foil, film and paper substrates and are accompanied by gravure printing and finishing capabilities.
Tekni-Films will feature TekniMD™ PX films, a series of proprietary high-performance, thermoformable copolyester films that provide an alternative to PETG for medical device packaging. Standard PX film is suitable for form, fill and seal applications, while PX MED has superior denesting characteristics and is used as a substitute for silicone-coated PETG.
Additionally, Tekniflex® cyclic olefin copolymer (COC) coextruded films will be on display. Their properties are suited for packaging dental varnish and prophylaxis paste. COC films are also being used as an alternative to Barex® in a variety of animal health applications.
Companies in this article