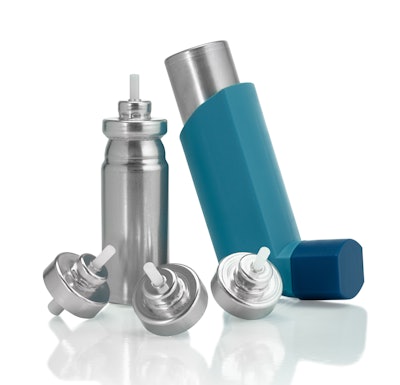 Lindal Group's pharmaceutical aerosol dispensing and systems include Bag on Valves (BoV), the Pinocchio actuator for nasal applications and many other products such as gel, spray, foam and oil. Their aerosol technology can be used for pulmonary, nasal, topical and rectal delivery. These are used for products such as pain relief, skin treatments, hand sanitizing, nutraceutical and food supplements.
Aerosol technology is employed on various drug delivery systems that allow the transport of the medication in exact location in the body. Pulmonary, nasal and topical deliveries can be achieved by means of aerosol technology, since pressurized packs can generate fine particles that can reach the lungs, micronized or streamed fluids to irrigate the nose and foams or gels for skin absorption.
The KHFA valve is designed for CFC-free formulation and the HFA is environmentally friendly. The valve works on suspension, solution and hybrid formulations, offering performance meeting demanding international specifications. The KHFA valve is compatible with a range of formulations with a clean extractable profile. There's no need for priming due to the rapid fill/rapid drain technology.
Companies in this article