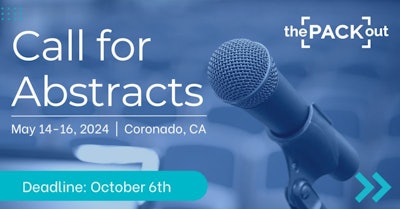 This content was written and submitted by the supplier. It has only been modified to comply with this publication's space and style.
thePACKout is a 2.5-day, multi-track annual conference created by industry peers to advance the field of healthcare packaging. This highly engaging conference experience is unlike any other. thePACKout brings together a community of like-minded professionals to build relationships, expand knowledge, advance careers, and innovate to grow the industry we love.
New for 2024
The call for abstracts may look slightly different this year as we continue to innovate on the program structure and integrate audience feedback. thePACKout 2024 will feature technical sessions across 3 pillars – Design, Process, and Technology – with cross themes of Innovation, Regulatory, Sustainability, and Usability. Professional Development sessions tie the program together to elevate professional skills, build a community, and advance the careers of attendees.
Call for Abstracts Timeline:
September 6th: Abstract submissions open
October 6th: Last day to submit abstracts (submission site closes at 11:59 PM EST)
Each abstract must include the following information to be considered:
Abstract title (max. 100 characters)
Abstract (max. 2,500 characters)
Pillar (options: Design, Process, Technology, Professional Development)
Select the pillar for which this session would be most appropriate. If applicable, choose multiple options.
Optional: Theme (options: Innovation, Regulatory, Sustainability, Usability)
If applicable, choose the theme(s) for which this session would be most appropriate.
Please provide three (3) learning objectives that are clear, measurable, and achievable. What impact does this have on attendees? How can attendees apply this knowledge immediately after thePACKout?
Name
Title
Company
Bio (max. 2,500 characters)
Has the speaker(s) presented at thePACKout previously?
Additional comments
Guidelines:
To encourage diversity of perspectives and representation:
Abstract proposals should feature no more than one (1) individual from the same organization.
There is a maximum of two (2) abstract submissions per speaker.
Collaborative sessions (e.g. panels) should represent diverse perspectives with different companies, genders, experiences, etc.
Presentations must be free of commercial content and intent. Abstracts promoting a company, product, or service will NOT be considered.
All complete, submitted abstracts will be reviewed and scored by a programming committee of industry professionals representing the demographic of thePACKout audience. Each abstract is evaluated based on the scoring guidelines below.
Scoring:
Does the abstract offer new knowledge and important information to conference attendees?
Does the session feature case studies, foster collaboration, deliver guidance or best practices?
Note: All abstracts must be original work and have never been presented in another forum.
Is thePACKout the appropriate forum for this content?
Does the content apply to one or more pillars and themes?
Will critical, timely, and practical information be shared?
Are there findings, strategies, or learning outcomes that will benefit attendees?
Speaker expertise and diversity:
Are dynamic and expert speakers proposed?
Are fresh voices (new speakers at thePACKout) proposed?
Collaborative sessions:
Do speakers represent multiple perspectives (different companies, sectors, roles, experiences, etc.)?
Are speakers ethnically, culturally, and gender diverse?
URL for submitting an abstract is: https://sessionize.com/thepackout-2024