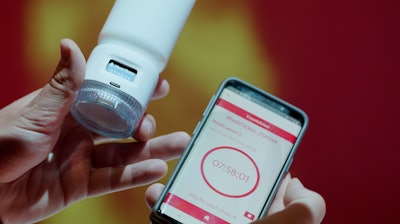 Bormioli Pharma will showcasing new prototypes addressing connectivity, traceability, and patient adherence, as well as innovative and sustainable packaging, at Pharmapack Europe 2023, Booth A68-A70.
For instance, Bormioli Pharma will present a new concept in ophthalmic drugs, a nebulizer (OptiMist) able to administer therapies, minimizing waste and making delivery easier and controllable through an app installed on smartphones.
Bormioli Pharma will also showcase an IoT, smart-controlled medical device (MediClicker) that allows easy pill dosing, and a traceability, multi-technology solution (Trax) capable of storing information along the supply chain and readable both by industrial systems and consumer devices.
In addition, Bormioli Pharma will present pharma packaging with a particular focus on low-impact, more responsible plastic solutions—in rPET, rHDPE, Green PE, PP, and Carbon Capture PET—already marketed in the EcoPositive range.
Suitable for pharmaceutical, nutraceutical, and food supplement uses, this range includes—as industrial products—three lines of low-impact packaging solutions, based on three sustainability strategies:
Regenerate: glass and plastic packaging recycled from first-choice waste collection
Renew: bioplastic packaging derived from renewable sources
Reloop: glass and advanced polymer products made from infinitely reusable materials
"IoT and sustainability are playing an increasingly key role in healthcare, changing the way we will look at pharma packaging in a few years from now," says Andrea Lodetti, CEO of Bormioli Pharma. "At Pharmapack 2023, we will showcase our most recent developments addressing these challenges, supporting with effective solutions our mission: making health a positive practice, accessible to everyone and kind to the planet."
The new frontiers of sustainable packaging will be the focus of a learning lab, held by Roberto Valenti, Bormioli Pharma head of materials development, on February 2.
Companies in this article