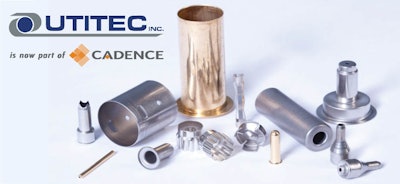 Cadence, a leading contract manufacturer of medical and drug delivery devices and specialty commercial products, has acquired Utitec, a manufacturer specializing in miniature, deep drawn medical device and commercial components. Utitec is headquartered in Watertown, Conn., with an additional medical facility located in Alajuela, Costa Rica.
"Acquiring Utitec better positions Cadence to lead the medical device contract manufacturing industry through investment, innovation, and faster growth to best meet our customers' evolving needs," states Rob Werge, Cadence president and CEO. "We look forward to leveraging the company's deep expertise in miniature, high-precision components for medical devices, while expanding our capabilities to include deep draw and additional cleanroom assembly capacity in Costa Rica to support new and transfer products for our customers."
Deep draw capabilities provide a manufacturing solution at a lower cost than conventional machined parts due to reduced labor and high-volume throughput, supplying highly engineered miniature and ultra-miniature metal components that strongly align with Cadence's current service offerings.
Brown Gibbons Lang & Company served as the exclusive financial advisor in the transaction of the sale.
Cadence is a full-service contract manufacturing partner, providing initial product design and development through complete manufacturing. Vertical integration enables Cadence to supply end-to-end product realization solutions focused on best-in-class total value for finished devices. Cadence now employs over 700 people worldwide with its corporate headquarters in Staunton, Va., and additional locations in Connecticut, Pennsylvania, Rhode Island, Wisconsin, and Costa Rica.
Companies in this article