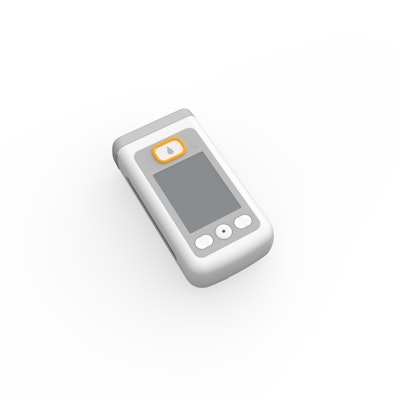 Developed by Sensile Medical for Ever Pharma, D-mine has received its European CE certification and has been launched in several European countries. The compact, patient-friendly infusion pump is used for the continuous subcutaneous administration of drugs to treat Parkinson's disease. This micro pump from Gerresheimer subsidiary Sensile Medical is designed to give Parkinson's patients greater independence in their day-to- day lives.
The D-mine pump is used to administer apomorphine in the advanced stages of Parkinson's treatment. Simple handling, safety, and ease of use were the main aims behind the development, which included the creation of a straightforward menu interface. The compact design is attributed to Sensile Medical's micro-rotation pump technology.
"In developing the Ever Pharma D-mine pump for treating Parkinson's disease, we have completed a very challenging project with a tough set of requirements," explains Georges Kahwati, General Manager at Ever Pharma GmbH. "This product signals clearly that Ever Pharma is committed to focusing on the needs of patients and providing them with customized solutions and innovative medical products."
The micro-rotation pump technology uses a ring-shaped piston area. The rotating piston together with an injection molded valve structure is designed to mechanically drive intake and outlet valves and generate the correct pumping stroke derived from the primary rotation.The design is made to be flexible and to operate bidirectionally—the pump direction is defined by selecting the appropriate sense of rotation of its pump drive.
As is typical of piston pumps, each pumping cycle:
Generates a good suction pressure.

Intakes a well-defined volume of drug.

Accurately delivers a nominal pump volume.

At a defined delivery pressure and time.
Parkinson's patients often have difficulty moving and appreciate the pump's ease of use, such as the automatic dosing function, the lack of complicated flow rate calculations, and the intuitive menu system. Its integrated choice of languages and the full-text display on its color screen make it easier to learn the ropes, while modern technologies, such as data storage and individually adjustable basal rates, support better treatment management. The D-mine pump comes with a specially designed charging station and does not need any conventional batteries.
With its brand of the Parkinson's drug apomorphine and its own medical product, Ever Pharma now offers a comprehensive treatment package. Derek Brandt, CEO of Sensile Medical AG, explains that Sensile's integrated pump technology is already at work in other treatment areas.
Companies in this article