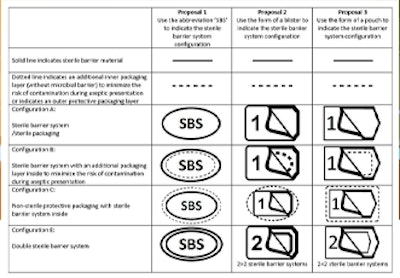 As we reported a few weeks ago from PharmaPack Europe, the Sterile Barrier Association (SBA) is working on a new symbol to identify sterile barriers in double-layer systems.
At HealthPack 2018, Thierry Wagner, Regulatory Affairs Director for Europe, Middle-East & Africa at DuPont Medical and Pharmaceutical Protection, discussed the changes that the EU Medical Device Regulation (MDR) is making to the General Safety and Performance Requirements (SPRs). There will also be new sterile packaging, labeling and extended documentation requirements.
Wagner noted that the SBA is seeking feedback from the industry on symbols using solid and dotted lines to denote which layer is the validated sterile barrier. The SBA explains that the idea of the symbol "is to assist end-users when using sterile barrier systems and to perform proper aseptic technique when transferring devices from their sterile barrier systems in an aseptic manner."
Answer the survey by March 29 to offer your feedback, as well as ideas and concerns.
Click here to take the survey in English.
The survey is also available in French, German or Dutch, and can be accessed from the news release by selecting which language you'd like: http://www.sterilebarrier.org/news-and-events/2018/january/survey-on-symbols-for-sterile-barrier-systems-ongoing/
Companies in this article