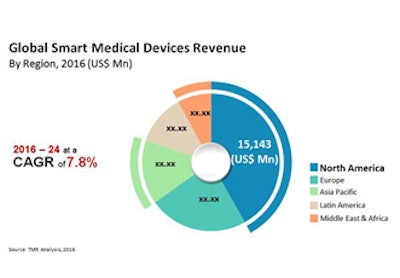 An increase in the global adoption of smartphones, a rising demand for wireless and smartphone-compatible medical devices, an increasing awareness and focus on health and fitness, and a growing demand for home healthcare are factors anticipated to propel market growth of smart medical devices.
The market's overall growth will also be fostered by increasing investments in the development of smart medical devices. For instance, the development of devices to monitor daily fitness activities along with managing calls and messages has helped several users to multitask efficiently.
The trend of smart medical devices is expected to gain special traction from developing economies of the Middle East and Africa, Latin America and Asia Pacific. The improving GDPs of nations in Asia Pacific, rising standard of living, and growing per capita income are expected to drive the demand for wearable health care technology in the coming few years.
These factors are outlined in a new "Smart Medical Devices Market" report from Transparency Market Research. The report, which analyzes the global market between 2016 and 2024, forecasts this market to "soar at a CAGR of 7.8% to reach $66.1 billion by 2024.
TMR's report segments the worldwide market into diagnostic, monitoring, therapeutic, damage aversion and recovery devices. It says the indicative and observing devices fragment is "relied upon to display the most astounding development rate in the coming years. This portion is further sub-separated into blood glucose screens, heart rate screens, cardiovascular occasion, EEG/ECG screens, beat oximeters, pulse screens, fetal screens, breathalyzer, blood analytic analyzers, and medical tricorder."
Rising disposable income
TMR says smart medical devices are used as "essential apparatuses by doctors to recognize different sickness by checking key signs. Constant malady, for example, hypertension and diabetes have in this way got a new point of view from both the medical business and additionally the patients."
The report predicts that the interest for smart medical devices will be owing to the developing pool of geriatrics, who are inclined to an extensive variety of sicknesses. This includes customers seeking to observe their heart rate, calorie admission, and the quantity of calories consumed. The reports that as these devices become easier to use, they "would fuel the take-up of smart medical devices in the coming couple of years."
Negative factors
TMR does point out that the high cost of smart medical devices market are being pulled the other way because of their high cost and a belief in some economies that they are "extravagance things."
The report also says, "The developing protection worries of the human services industry in regards to patient's information is additionally anticipated that would control the development of the general market."