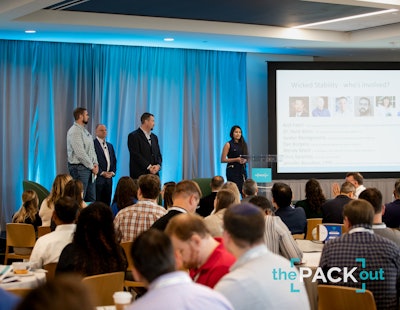 the[PACK]out
After a successful inaugural event in 2022, the medical device packaging conference, the[PACK]out, returns to Austin, TX, from May 9 to 11, 2023.
Designed for healthcare packaging engineers, the conference offers ample opportunities for education, networking, and mentorship, built for the industry, by the industry. Attendees can select from a range of topics, with an overall focus on design, sustainability, and usability. Register for the[Pack]out here.
Tuesday session listing
Keynote Opening, Paul Nowak
The Intersection of Climate Change, Healthcare, and Packaging: Accelerating Industry Action for Patients and the Planet, Cristina Indiveri, MS, Erika Kimball RN, MBA, and Paul Nowak (moderator)
Innovation Hour: The Innovation Hour will be a fast-paced session of TED-style talks highlighting collaborative research and new technology to address the industry's most pressing challenges and needs.
Packaging – It's More Than Meets the Eye: Putting the "Ability" Back in Usability, Arti Roth, PhD and Amy Stewart
Can your Package "Take a Licking" and "Keep On Ticking"? How to Tackle Human Nature and Mother Nature with Robust Package Design, Brian Farison
Building Partnerships to Navigate Unprecedented Times: A Conversation with Supply Chain and Packaging Peers, Dennis Sullivan, Curtis Rose, Eric Pearson, and Karen Polkinghorne (moderator)
Industry Power Hour with updates on AAMI Technical Committee 198, ASTM F02 Primary Barrier Packaging Committee, HPRC (Healthcare Plastics Recycling Council), IoPP MDPTC (Medical Device Packaging Technical Committee), KiiP (Kilmer Innovations in Packaging), and SPMC (Sterilization Packaging Manufacturers Council).
Wednesday session listing
Catalyzing Circularity: A Case Study in Adopting Certified Advanced Recycled Materials for Medical Packaging, Cliff Labbe and Rod Patch
Unlocking the Potential of Advanced Recycling: Today's Technology Landscape and Opportunities for Medical Packaging, Katherine Hofmann, PhD and Zach Patterson
Creating a Business Case for Advanced Recycled Materials: Critical Questions from the MDM Perspective – A KiiP Collaboration, Deepa Rampura and Anna Thomas
Breakout tracks on Wednesday, May 10, offer a foundational and tenured track option, depending on attendee experience level and preference:
Foundational Track: Using Damage Boundary Theory as a Tool for Sustainability, Nora Crivello
Foundational Track: Wicked Stability: Project Progress and Workstream Updates, Nancy Battaglini, Jen Benolken, Henk Blom, and Rod Patch
Foundational Track: Building a Plane While Flying is Not Easy – Learn How ASTM is Developing a Guide to Help the Industry Meet or Exceed Requirements of ISO 11607 Section 7, Broc Couling, Arti Roth, PhD, and Matt TerBush
Foundational Track: End of Life Journey of Medical Packaging: What You Should Know as a Packaging Engineer, Jamie Pero-Parker, PhD, Samantha Smith, and Keith Weitz
Foundational Track: Sterile Packaging Recycling Pilots: A Journey to Circularity, Nick Packet
Foundational Track: Human Sustainability Through Connection and Vulnerability, Hanna Harris, Chris Kelley, Austin Liu, Seema Momin, and Jen Benolken (moderator)
Foundational Track Theme: The Path from Distribution to Validation: In this session, we will hear TED-style Talks that represent various phases of package validation. We will start with defining your distribution channels in order to design a proper validation plan. Taking that information, we will dive into how to choose protocols that satisfy both the distribution challenges and intricacies of ISO 11607. Wrapping up, we'll challenge the status quo and discuss the possibility of leveraging validations for like-packaging. We will wrap up the hour with a Q&A session before testing your knowledge with a pop quiz!
Tenured Track: Reducing Sealing Variability and Increasing Process Capability, Lynne Barton and Ben White
Tenured Track: Shifting the Integrity Testing Paradigm for Medical Device Packaging, Tyler Harris and Rob Schultheis
Tenured Track: Not Concerned about the Regulation Landscape for Materials of Concern? You Should Be!, Alex Bowman
Tenured Track: Human Factors Engineering: How to Incorporate Usability Principles and Practices to Packaging Design to Create Safe and Effective Product-Packaging Systems for Your Users, David Grosse-Wentrup, Dipl. Ing.
Tenured Track: Connected Combination Devices Elevate User Experience, Mathias Romacker and Lisa Pierce
Tenured Track: Medical Packaging From the Patient's Perspective, Michael Johnston
Tenured Track Theme: The Sustainable Packaging Journey: MedTech Perspectives: Packaging serves a critical role in protecting life-saving medical devices and maintaining sterility until the point-of-use. While these functions cannot be compromised, the demand for more sustainable healthcare packaging solutions is increasing. Whether your company has defined sustainability goals or you are just beginning the journey, it can be difficult to know where to start. How are medical device manufacturers challenging the status quo to reduce the environmental impact of healthcare packaging? In this session of TED-style Talks, we will hear from stakeholders at the intersection of packaging and sustainability as they share insights from their organization's sustainable packaging journeys.
Thursday workshop
Thursday will include a workshop and live Q&A.
Registration
The event takes place at The LINE Hotel Austin, May 9 to 11, 2023. Register for the[Pack]out here.