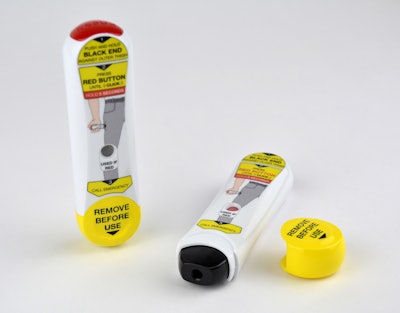 Italian-based Stevanato Group, a producer of glass primary packaging and provider of integrated capabilities for combination products, and Duoject Medical Systems, a Canadian-based developer of innovative drug delivery systems, announced an exclusive partnership to collaborate on providing biopharmaceutical clients a more complete and comprehensive 'one stop shop' system to an emergency-use auto-injector.
The Maverick auto-injector was designed by Duoject Medical Systems to improve the functionality of auto-injectors to enhance disease management and treatment. Maverick is an innovative cartridge-based auto-injector designed to have intuitive two-step triggered automatic injection and needle retraction. Maverick is made to be mechanically robust, utilizing a high-resistance glass cartridge, so that it can be suitable for emergency use where effective and fast intramuscular injection is required.
Stevanato Group is working closely with Duoject Medical Systems to promote this device to biopharmaceutical clients that are looking for a suitable auto-injector which is cartridge-based rather than PFS-based and taking into consideration the automatic needle insertion and retraction design of the device. For each client further refinement of the design is expected as well as related customization by designers and engineers at Duoject Medical Systems. Design for manufacturing (DfM), and design for assembly, (DfA), will be supported by Stevanato Group. The final device design for clinical trial and commercial launch will be produced at Stevanato Group's ISO13485 and FDA audited manufacturing facility in Germany. Sub-assembly and final assembly equipment will be primarily produced by Stevanato Group operations in Denmark. Novocol Pharma, parent company of Duoject Medical Systems, will provide extensive support to related biopharmaceutical companies in terms of formulation, fill & finish, and final assembly of the auto-injector.
Atif Zia, president of Duoject Medical Systems, says: "Duoject is pleased to announce its second drug delivery device collaboration with Stevanato Group, following the announcement of the EZ-Link vial adapter partnership earlier this year. Maverick will provide patented user safety features preventing accidental injections in the thumb and improved ease of use in emergency situations. The device has a granted patent in the USA and is patent pending in several additional countries."
Companies in this article