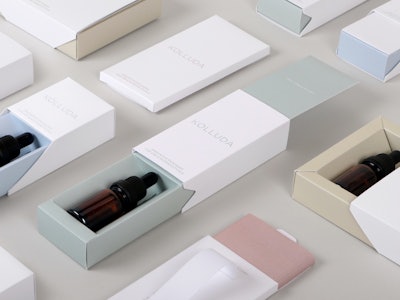 Burgopak, creator of the packaging slider, has joined with the team from Duallok, the award-winning child-resistant packaging design, to create a new packaging range for the rapidly growing CBD and luxury wellness market.
Inspired by the modern CBD consumer, Kolluda offers a collection of contemporary packaging systems designed to reinforce the product's purpose to relax the mind and ease the body.
With Duallok's insights into the legalized cannabis industry, each system in the range includes a subtle and intuitive opening mechanism, housing an angular and easily customizable insert to present the product with simplicity, while keeping it well supported.
Suitable for bottles, tinctures, supplements, edibles, chocolates, and ointments, the packaging range is designed for shelf appeal among a backdrop of bottles, or to extend the customer's e-commerce experience.
The first releases in the Kolluda 'Type' range include a cabrio mechanism, the Burgopak slider, and a dual product tray with left and right openings. These can accommodate paired and complimentary products, and the "Type-E" features a pull cord to eject product seamlessly from the pack.
Companies in this article