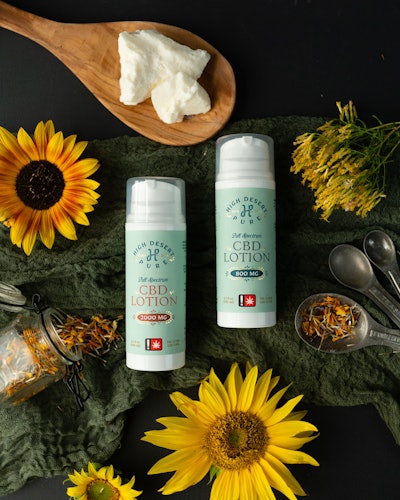 Launched in 2015, High Desert Pure is a Bend, OR-based company that produces full-spectrum topicals, tinctures, and bath products, all of which center around health. "Our main focus is providing relief. We sell products containing THC in the Oregon and California marketplaces through those states' recreational marijuana programs. We sell products that contain only CBD online, and these products can be sold direct-to-consumer via mail order," says Jack Robson, owner of High Desert Pure. Robson started his business after a ruptured disc caused him to seek alternative pain relief, and he found success with cannabis.
As has been the case for many regulated health products, copy and packaging requirements are tough to balance with small real estate or pre-printed packaging. "When we started developing our packaging and labeling requirements we realized that we had a bit of an unusual requirement in that our labels have a significant amount of batch-specific regulated text and content to facilitate tracking and tracing. So, this precludes a lot of typical approaches such as having a nice screen printing done on your packaging in bulk," explains Robson. "No matter how you slice it, you're going to be at least augmenting the data on your packaging with either a label, heat shrink, or external packaging such as a box, in order to convey this batch-specific detail."
---
---
With the added requirement of child-resistance features, High Desert Pure encountered packaging suppliers taking existing child-resistant containers and encouraging use with cannabis and CBD products. Robson notes that what works for an eighth ounce of flower won't work for a lotion closure. "To this day there remains a tremendous dearth of compliant, child-resistant, environmentally friendly packaging solutions for the cannabis industry," he says.
Labeling a wide portfolio
High Desert's product line spans quite a range—about 30 different SKUs with a variety of labels and sizes—including:
Full Spectrum Tinctures in a 1.7-oz bottle with dosing measurements on dropper, packaged in an outer carton
Big Balm in a 2-oz recyclable, child-resistant jar with a reclaimed ocean plastic lid
Full Spectrum CBD Lotion in an airless pump container (3.5 oz)
Topical Relief Stick in a high potency glide-on application in a 0.52-oz twist up container
Soak & Fizz Cannabis Bath Salts in a child-resistant 16-oz container with a reclaimed ocean plastic lid
The company needed a way to label products that would allow them to edit the batch details in-house, while generating "an attractive and resilient label, meaning one that would not easily be ruined by water or oil" while in the customer's hands. "Imagine labeling a sunscreen bottle, for example. You will likely get sunscreen on your fingers. If that caused a label to smudge, that would obviously be unacceptable" Robson says.
Because labels require manufacturing dates and testing information depending on the cannabis product and state—such as THC content and pesticide analysis—they are applied post-fill after a batch's results are received. The universal cannabis warning symbol is state-specific and dimensions cannot be altered, adding to the need for customized labeling. Labels are supplied by a number of vendors, with the majority sourced from Hickman Label.
Resilient labels
Robson was impressed with an Epson ColorWorks demo from Color Label Solutions—a distributor specializing in print-on-demand color label systems. "We initially used a color laser printer to create labels. While it was fairly straightforward and easy, the quality wasn't what I wanted to represent my company, and it didn't allow us to scale up as business grew," says Robson. "When we saw the ColorWorks, the quality was far superior to anything else we had ever seen. And, with the labels on rolls, it would allow us to automate the application of the labels."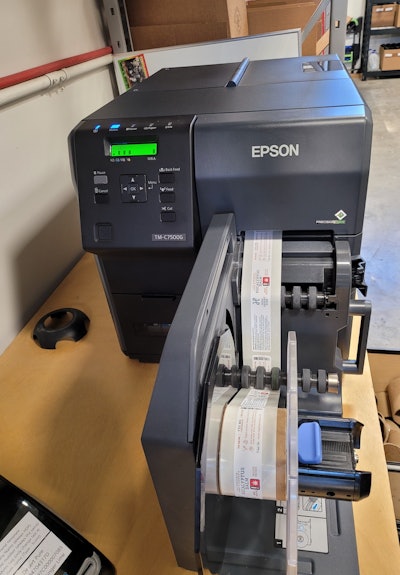 High Desert Pure started with the ColorWorks C7500G on-demand color label printer in Oregon, and after opening offices in Sacramento to help serve the growing California market, invested in the newest ColorWorks CW-C6000A. They use a variety of label media—primarily rolls of matte white polypropylene (BOPP) labels— and both printers use UltraChrome DL pigment ink in four individual CMYK cartridges.
Once labels are printed, they remain on rolls which are transferred to label applicator machines. "We obviously have a variety of different labeling machines to suit our various products having different sizes and shapes. Dare to dream, but hopefully someday we can find a labeling machine that is as dependable as our Epson ColorWorks printers," he says.
Traceability matters
Robson explains that each product is labeled with a unique ID, which allows the product to be tracked and traced through its entire lifespan–from the point of manufacturer to distributor to dispensary to the end consumer—and prevent diversion. "To see the test results for a product, a customer can enter the last three or four digits of the batch number on the product label for insight into third party lab test results (terpenes that are in each strain, CBD, or THC percentages) via our website. In addition we often provide barcodes and QR codes on our labels to assist with point of sale scanning and customer support," he notes.
For label data management and barcode generation, High Desert Pure uses in-house proprietary software that they created to track and trace products and lots. "This data feeds into our final labels which are managed, tweaked, and printed using Adobe Illustrator," he says.
Next steps in sustainability
Their immediate short-term priority is to refocus packaging towards more sustainable options. "The cannabis industry is regulated to provide child resistant packaging that includes a lot of text, which can result in excessive packaging and a negative impact on our landfills and the environment in general," says Robson. "Where possible, we are simplifying our packaging and moving towards sustainable options. For example, we are swapping out some aluminum and plastic packaging for glass packaging, glass being highly and easily recyclable. And for our caps we are sourcing them from a company—Sana Packaging with Oceanworks—that makes the caps from reclaimed ocean plastic."
For more information on all things cannabis access the 2021 Packaging for the Cannabis Market Report from Packaging World.
Companies in this article