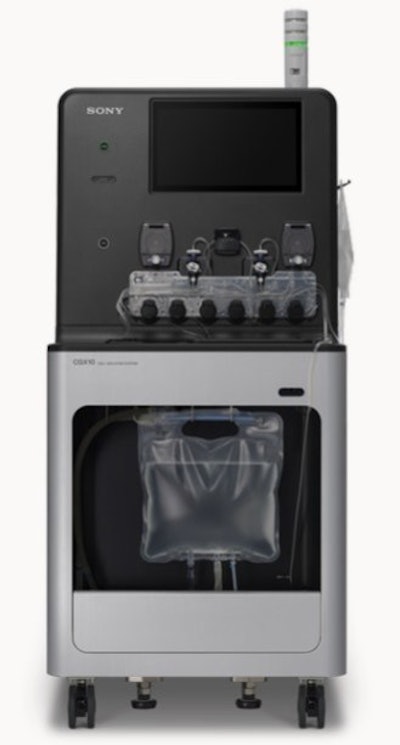 Sony has introduced a new cell isolation system, CGX10, which sorts cells at high speed and high purity in a closed system. The CGX10's design enables sorting of cells in a manner that is entirely closed off from the outside environment, making it possible to analyze and isolate cells while maintaining a sterile state. This is especially important in fields such as cell-based immunotherapy, which has been gaining recognition as a treatment for cancer and autoimmune disorders. To produce the cell therapies necessary for this treatment, there is an increasing demand for isolating cells with high purity and high viability in a sterile manner.
It is also expected that this product could be utilized in research for developing cell-based products for fields such as cell therapy and regenerative medicine. It can also contribute to the development and production of cell therapies in compliance with quality and production management regulations.
By introducing CGX10, Sony's life science business will expand from research applications to the field of cell therapies' development and manufacturing, further contributing to the advancement of cell therapy.
"Cell-based immunotherapy treatment is gaining recognition as a treatment for serious diseases, such as cancer," says Taisuke Kawasaki, senior general manager, life science division, Sony. "Our cell isolation system CGX10 integrates closed multi parameter cell sorting technology, making it possible to accelerate the development of cell therapies. With this product, we are able to move from contributing to life science research to supporting the production and development of cell therapies. We will continue to contribute to society for people's safety and security by leveraging Sony's technologies in the life sciences field."
"Until now, the main treatments for cancer have been surgery, radiation therapy, and anticancer drugs. However, in recent years there have been rising expectations for cell-based immunotherapy to be the new, fourth pillar of cancer therapies," says James Graziadei, CEO of the Sony biotechnology business. "In addition to a treatment for cancer, cell-based immunotherapy is also recognized as a new treatment for autoimmune disorders such as diabetes and rheumatism. Alongside medical development, demand will continue to grow for cell sorting under the highest levels of sterilization and purity. With the introduction of CGX10, we'll aggressively support cell therapies."
Sony's CGX10 features the ability to use up to 10 parameters to isolate a single cell, and the signal is based on excitation from four lasers (405nm / 488nm / 561nm / 638nm) to detect target cells of interest. At analysis speeds of about 15,000 cells per second, it also ensures a purity level of about 97% and higher.
By controlling fluidics, cell damage is minimized, allowing for a high viability of sorted cells. Thus, it can increase the efficiency of the downstream production processes, such as cell culture and expansion for producing cell-based therapies. Furthermore, as this instrument uses fully disposable, single-use plastic tubing/components, any risk of cross-contamination between samples is avoided.

Sony is expected to begin deliveries of the CGX10 cell isolation system in fall 2022.
Companies in this article