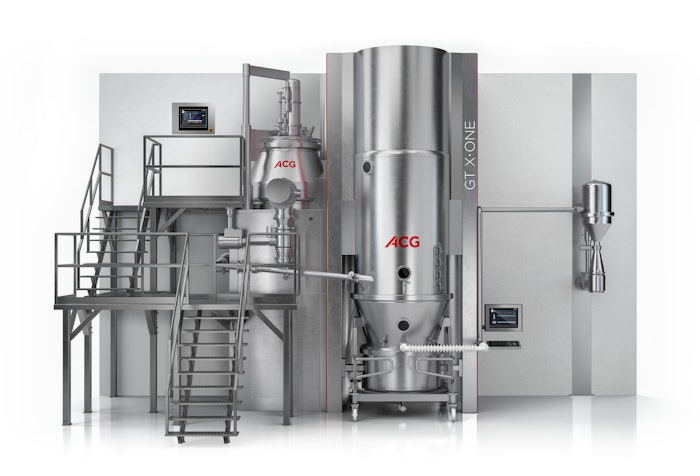 ACG Engineering–one of the four businesses of ACG Group, a supplier of end-to-end oral solid dosage manufacturing systems for the pharmaceutical industry–introduces a line of integrated granulation equipment designed to meet increasing needs for high-volume production. Combining the company's HSM 2000 X.ONE high shear mixer and FBE 1800 X.ONE fluid bed units, the GT 1600 X.ONE is a granulation system for high volume batch production.
The GT 1600 X.ONE's is meant to be efficient and cost-effective through its mechanical and process integration. The marriage of two process units should enhance overall efficiency and reduce the frequent shortcomings of conventional granulation approaches, such as significant production space, longer processing time, and lower yields.
The GT 1600 X.ONE features a Z-shaped impeller for material ­flow and improved content uniformity of the granulation. To assist with effective discharge and cleanability, a compressed air system is supposed to increase the reliability of the discharge valve seal, and a bag-type mechanical shaking filter on the fluid bed should offer more effective product retention and higher yields compared with alternative blow-back style systems. Transfer of the wet granulated material into the fluid bed is configured through the selection of a tangential charge port for effective product transfer and a consistently repeatable drying operation.
The integrated line can be configured for a "through the wall" installation which would optimize process room layout, according to the company, while improving access for calibration and maintenance and enabling GMP compliance. It is also designed to be safety-centric: the GT 1600 X.ONE is equipped with ACG's Maximum Operational Safety Technology (MOST), an advanced engineering approach to 12-bar safety for complete security for the customer's investment.
ACG says other aspects of the GT 1600 X.ONE Granulation Suite include contained product handling for improved industrial hygiene; Good Automated Manufacturing Practice (GAMP)-based documentation and 21CFR Part 11 compliant controls for conformity to global regulatory norms; and complete systems integration of the process controls based upon a common platform for intuitive, user-friendly operation.
Companies in this article