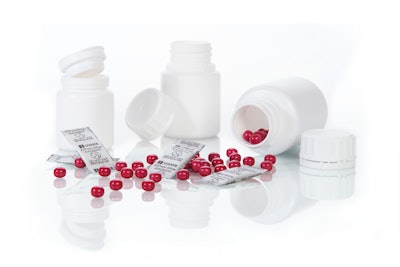 At this year's PACK EXPO International from October 23 to 26, Sanner will showcase its specialized desiccants for medtech and diagnostics products at Booth W-15052.
In addition to its competence in precision injection molding, Sanner provides drop-in, fit-in, and built-in desiccant solutions. The latter are especially suited to protect the functionality of medical devices, including clinical and home-use in-vitro diagnostic platforms. Among the drop-in solutions, Sanner will showcase the AdPack® desiccant packets, which offer an ideal combination of durability, moisture protection, and breathability while taking up little space inside the primary packaging. The AdCap® desiccant canisters ensure that moisture or odors are optimally adsorbed immediately after filling of oral solid dose drug product bottle packaging.
The TabTec® CR comes with integrated desiccant and ensures both child resistance and moisture protection. This oral solid dose drug product packaging solution keeps children from accidentally ingesting medication, while its innovative press-and-flip opening mechanism makes it easy to handle and to reclose for adults. Moreover, the integrated desiccant and the appropriate color of the packaging protect the content from moisture and light.
Tests conducted using FreeThink Technologies' ASAPprime® accelerated stability assessment software make it possible for customers to instantly assess the stability profile and related shelf life of drug products packaged in TabTec® CR as compared to their current packaging presentation to quickly facilitate a change control under a CBE-30 submission.
"PACK EXPO is the ideal event to underline this additional strategic focus and to discuss the future requirements of the industry," says Adrian Possumato, president of Sanner of America. "As a Contract Development and Manufacturing Organization, we support our customers in designing, developing, and producing precision-molded, customized medical devices and diagnostics products with high-quality desiccants."
Companies in this article