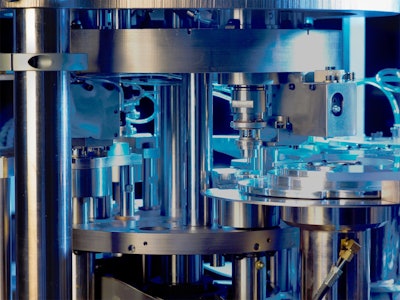 MMC Packaging Equipment, a Tekni-Plex business that designs, develops, and commercializes leading-edge, post-molding automation systems, is releasing its new high-speed (up to 2,400 parts per minute) closure slitting and band folding machine.
The new generation turnkey system is made for plastic beverage closure manufacturers who perform a post-molding process of slitting and folding tamper-evident bands for closures ranging in size from 24 to 38 mm.
"We have developed a new generation of high speed slitting that has been engineered with Industry 4.0 attributes to optimize manufacturing," says Christiane El-Tekly, general manager. "This includes a broad array of functions including overall equipment performance, detailed inspection and production data, and remote support access."
The system also features a six-camera vision inspection to help meet quality objectives. The vision checks include closure integrity, closure contamination, bore seal gaging, and cavity number recognition. The machine is designed to offer improved tracking capabilities and a patented spark inspection unit for pinhole detection at the injection point. A cap counting accumulation and boxing system is designed to avoid upstream process interruption.
Companies in this article