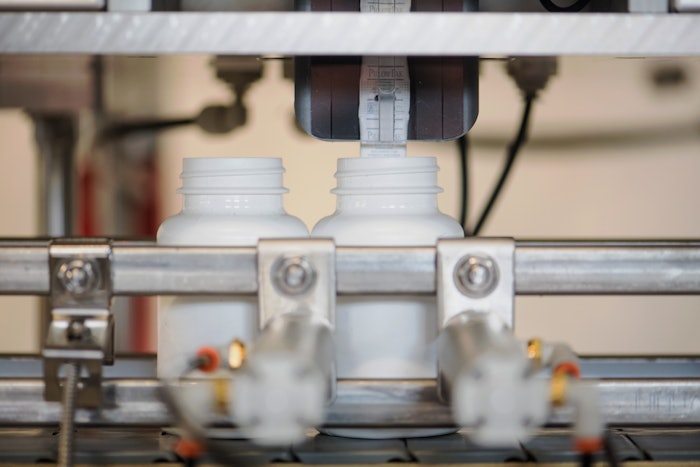 The PharmafillTM PS1 PackserterTM from packaging machinery manufacturer Deitz Co., features a proprietary Edge Detection system that automatically finds the proper cut location between each desiccant packet.
Designed to promote reliable, unattended, automated operation, the Edge Detection system ensures proper cutting from the strip to prevent double feeds that increase desiccant costs and miscuts that may cause jams, spillage and line downtime. Offering unprecedented control over the cut location, the Edge Detection system allows the registration signal to be triggered by either the leading or trailing edge of the seam to accommodate a wide variety of packets including those with holes punched in the seam. Changeover from one desiccant, oxygen absorber, sample pack, condiment or other strip to another moves fast and easily.

To be featured at Pack Expo International booth LS-5802 in Las Vegas, NV on Sept. 23, 2019, the Edge Detection system is one of several sensor-driven systems included as standard on the PS1 Packserter.
Designed for packaging pharmaceuticals, supplements, nutraceuticals, foods and other moisture-sensitive products, the electronic desiccant machine inserts silica gel, calcium oxide and other types of desiccant packets into bottles or other containers up to nine inches in height at speeds of up to 100/min. One or multiple packets may be inserted per bottle.

The PS1 Packserter is manufactured at the company's Wall, New Jersey, headquarters with food-grade stainless steel construction, PLC controls with touch-screen interface, and a hinged safety panel on a compact footprint just 20 inches across. The inserting machine ships tested and inspected with a full warranty.
Companies in this article