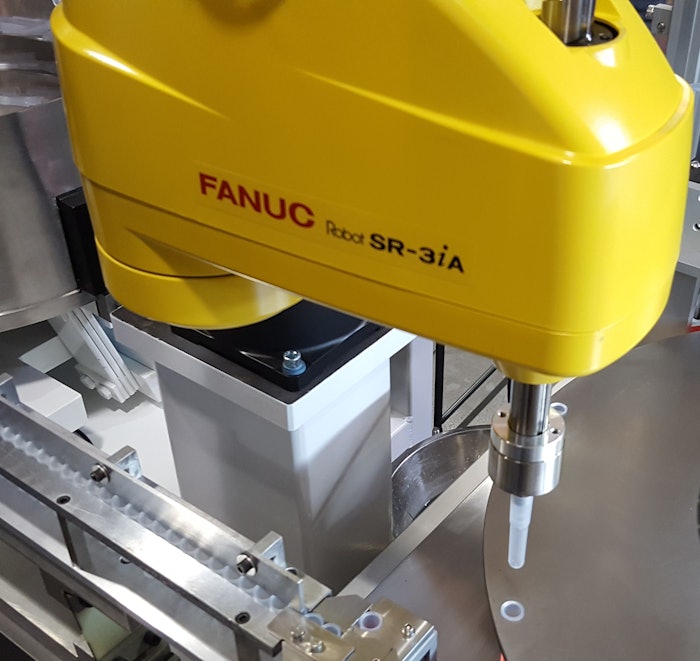 ESS Technologies, a Fanuc Authorized System Integrator, is a Strategic Partner for pharmaceutical packaging and has extensive experience integrating Fanuc America robots. Their TaskMate Robotic Systems now integrate Fanuc's SR Series of SCARA robots to create an ultra-compact robotic cell that is designed to integrate easily with cartoners, case packers, and monoblock filler/cappers for collation and machine loading and unloading. The small size and flexibility of the Fanuc robots allow ESS to place the robot within the machine frame, unlike the larger robots that require a separate robotic cell with additional safety guarding. This reduces the system footprint and cost and minimizes the required guarding.
TaskMate Robotic Systems automate repetitive or dangerous packaging processes, increase productivity, and reduce worker injuries, according to the company. Robotic systems are also meant to offer a higher rate of production, allowing manufacturers to maximize their equipment throughput by maintaining their equipment's infeed speeds.
The Fanuc SR Series of SCARA robots is designed to offer high speed and flexibility in collating product prior to cartoning or case packing, loading machine infeeds, and unloading machine discharges. The Model SR-3iA handles up to 3kg (6.6lbs.) using four axes and provides a reach of 400mm (15.75"). The Model SR-6iA can handle up to 6kg (13.2lbs.) using four axes with a reach of 650mm (25.59"). ESS Technologies designs custom end-of-arm tooling for each application, enabling TaskMate Robotic Systems to handle a variety of shapes. This flexibility allows the robotic cell to be used in a wide range of applications for kit packing, collation, loading, unloading, material handling, and assembly.
ESS Technologies will demonstrate a SCARA robotic cell in their booth at the upcoming Healthcare Packaging Expo in Las Vegas September 23-25, 2019. Healthcare Packaging Expo is co-located with Pack Expo at the Las Vegas Convention Center in Las Vegas, Nevada.
Companies in this article