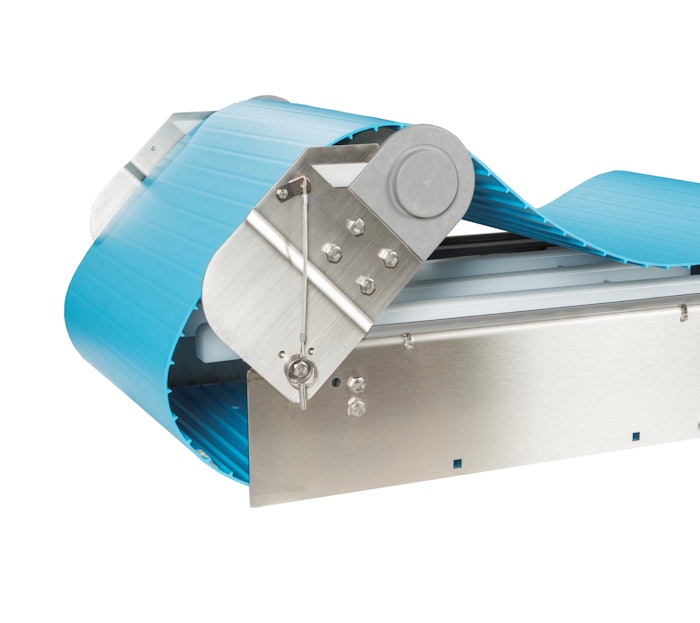 Two models from Dorner's newly redesigned AquaGard 7350 V2 Seriesare now available in D-Tools, Dorner's online conveyor configurator.
The AquaGard 7350 V2'sPositive DriveandLPZ(Flat and Cleated belt) models now on D-Tools give project engineers, plant managers and others the ability to easily design an AquaGard conveyor to fit their exact application in a matter of minutes.
D-Tools, which includes 2D and 3D CAD libraries and other functions, allows users to construct simple or complex conveyor packages, as well as individual components such as gearmotors and mounting packages, support stands and accessories.
The AquaGard 7350 V2 is built for numerous sanitary applications within baking, snack food, pharmaceutical, pet food, packaging and other industries that require occasional wipe-down cleanings of the conveyor. The new conveyor comes in belted, modular belt and positive drive models.
The platform provides a safe, advanced modular curve chain conveyor. The modular belt curve conveyor has no openings greater than the international standard of 4mm, even within the curves, which increases safety by eliminating pinch points for operators. Added safety measures are also achieved by covering the upper and lower chain edges, and fully containing the drive system, which reduces catenary belt sag and conveyor noise.
Features and benefits of the AquaGard 7350 V2 Positive Drive Conveyor include:
• Positively driven belt avoids slipping in wet environments
• Positive belt control on drive sprockets
• Eliminates need to be tensioned or tracked
• Tip-up tails for access inside conveyor for cleaning and maintenance
Features and benefits of the AquaGard 7350 V2 LPZ Conveyor include:
• Available in flat and cleated belt models
• Flat belt angles from 5°to 30°in 5°increments
• Cleated belt angles from 30°to 60°in 5°increments
• Configurations: Horizontal to incline; noseover; Z-frame
Companies in this article