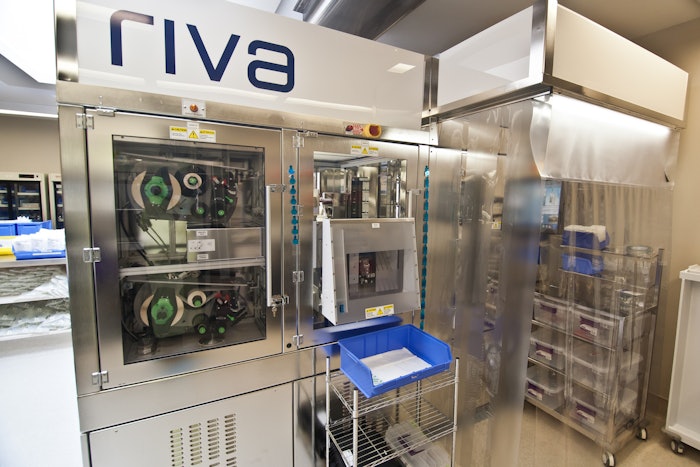 ARxIUM, a global provider of pharmacy automation, workflow and consulting products, has launched its cGMP RIVA IV compounding system for 503B central-fill, hospital and outsourcing pharmacies. The fully automated cGMP system prepares syringes and IV bags in an aseptic ISO Class 5 environment and provides the highest level of medication safety, quality and monitoring.
The cGMP configuration allows pharmacies to implement RIVA's safe and efficient compounding process to manufacture a wide range of medications. It also offers environmental monitoring and logging functions to meet regulatory requirements for 503B pharmacies.
Three systems are in late-phase implementation (final operational and process qualification) for production at Florida-based 503B facilities.
As North America IV compounding regulations continue shifting to cGMP requirements, the new RIVA system will help meet customers' safety and compliance needs. The company works closely with customers on the installation, process and operational qualifications for cGMP in accordance with 503B regulations.
The system integrates with clean room environmental monitoring systems to stop compounding if adverse conditions occur and provide consolidated reporting. It also offers direct input to the monitoring system about its current operational status. For example, the system automatically records if RIVA is in production or if its doors are open. It also logs when RIVA is being cleaned, which eliminates the need for users to manually record the activity.
Companies in this article