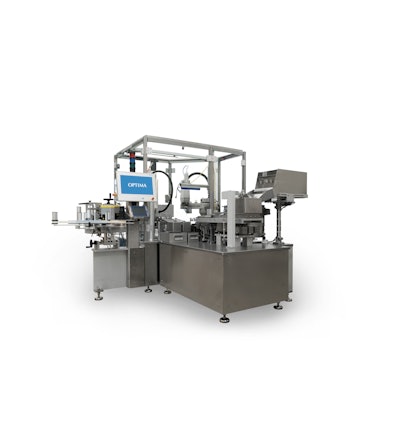 The new Optima ImmuFill rotary transfer machine dispenses liquids in bottles of varying diameter and depth. As small batches are often produced in the diagnostics industry, it is essential that formats can be changed quickly. The machine only requires few format parts, allowing the format to be changed in under 30 minutes.
Includes an integrated robot that inserts bottles together with their caps into the starwheel. Only the robot's vacuum cup needs to be switched when changing formats, which can be done quickly with a plug-in coupling. In addition, 2-, 4-, 10- and 100-mL bottles can be processed on one wheel.
ImmuFill consists largely of aluminum components and is said to be less expensive than pharmaceutical packaging machinery made of stainless steel.
The compact machine occupies only an area of 3 sq meters, making it suitable for smaller production spaces and laboratories.
The system complements the modular Optima ImmuCoat® machine platform, which covers the process of coating microtiter plates. Every process step required can be integrated into this platform. For example, it includes incubators that store the plates between the individual process steps.
Also in the portfolio is the Optima ImmuPouch machine, which packages the plates in three-sided pouches and seals them.
The machine range aims to cover the range of functions required for manufacturing and packaging complete test kits, including reagents.
Companies in this article