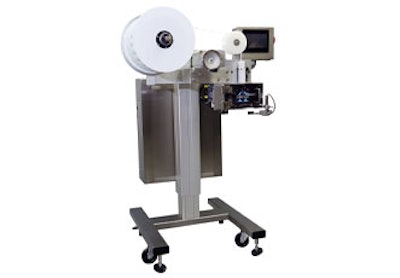 Omega Design Corp., a global provider of packaging machinery for the pharmaceutical, nutraceutical and consumer healthcare industries, and worldwide producer of bottle unscrambling technology, has introduced its Econo Pouch Feeder.
The portable, cost-effective, non-pneumatic pouch inserter feeds up to 150 desiccants or oxygen scavengers/min. Requiring no air, the all-electric feeder is capable of single or multiple pouch drops/container, and can dispense into bottles, trays, diagnostic kits and more.
The Econo Pouch Feeder is part of Omega Design Corp.'s new IMPACT Series of pre-configured machines, an alternative buying path for companies of all sizes to obtain industrial equipment at a low entry point without sacrificing quality.
Showcased at PACK EXPO 2018 in Chicago, the Econo Pouch Feeder's unique, patent-applied-for (PAF) dispensing head uses a stepper motor to quickly and accurately cut pouches from a strip. An operator loads a pouch desiccant reel onto its spindle and then feeds the desiccant strip into the dispensing head. The automatic feeder cuts the pouch desiccants from their strip, dispenses the desired quantity, and verifies the exiting of the desiccants from the dispensing head. Featuring an anodized aluminum frame, slim line dispensing head, and integrated color touchscreen HMI, the feeder accepts pouches from all major manufacturers.
The Econo Pouch Feeder comes with a variety of options. A bottle control handling system is a material handling solution for certain bottle profiles; a down bottle reject system offers redundancy protection for bottles exiting the machine; a dual pouch reel storage system increases accessibility and convenience; a machine status package increases visual machine status; a UL panel indicates certified cabinet construction, components and assembly; and a validation support package details documentation for validation requirements.
The Econo Pouch Feeder system fills a market need, as it is both versatile and highly cost-effective. As line configurations become increasingly customized by job, the flexible unit represents the sort of plug-and-play solutions that can assist as needed and at minimal overall investment.
Companies in this article