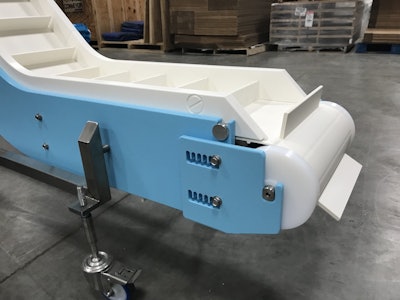 Dynamic Conveyor Corp., manufacturer of easy-to-clean conveyor systems for the food processing, pharmaceutical and packaging industries, now offers an Allergen Kit to accompany its DynaClean® sanitary conveyors.
The new Allergen Kits are designed to prevent product cross-contamination following product changeovers. Allergen Kits are for companies that prefer to use the same conveyor system to process a variety of different types of products where cross-contamination is a concern, including nutraceuticals.
With an Allergen Kit, customers are able to swap out the conveyor components that are in the product stream and eliminate the potential for cross-contamination. For easy identification, Allergen Kits include a white conveyor belt (instead of the standard blue), removable retaining walls and optional clear covers branded with an allergen identifier of choice. Utilizing an Allergen Kit eliminates the need for an extra conveyor allocated for conveying specific products only.
The patented design of the conveyor system allows for simple, quick and easy disassembly and cleaning. No tools are needed, there's no small parts to lose and no nooks or crannies to clean. With the DynaClean conveyor, processors experience an ultra-sanitary conveyor option that reduces cleaning time from hours to minutes.
Companies in this article