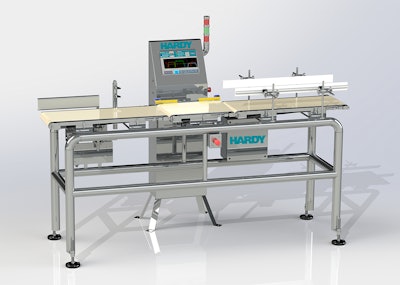 Hardy Process Solutions announces a new Clean in Place (CIP) version of its Dynamic Checkweighers that meets demands of food or chemical manufacturers. The new Dynamic Checkweigher CIP uses a framework that minimizes horizontal flat surfaces, using sloped faces and round tubing where possible, and a sloped cabinet. An enhanced safety conveyer design minimizes entrapment and other hazards from rotating shafts or equipment.
Changes to Hardy's manufacturing techniques helped adapt the Dynamic Checkweigher to meet the sanitary and hygienic standards CIP clients require.
The Hardy Dynamic Checkweigher series is designed to automatically weigh items while in-motion for quality control or sorting applications. The Checkweigher controller can communicate both upstream and downstream across Rockwell Automation's The Connected Enterprise™.
Machine control, statistics, and analytics are managed with an integrated Rockwell Automation CompactLogix® PLC while the Hardy HI 4050CW checkweigher controller contributes as a co-processer, generating fast, stable and accurate weigh data. The resulting high speed check weighing system can process up to 350 pieces/min and generate process data that is easily shared with any other device on the Network.
Flexible and accurate, the Hardy Dynamic Checkweigher weighs products of virtually any shape or size in containers such as boxes, cans, bottles, rigid shrink-wrapped packages or flexible packages.
Because the Dynamic Checkweigher Series uses Wide Area Networking (WAN) connectivity, customers are able to:
• View and take control of any Hardy Dynamic Checkweighing machine on their network thru VPN tunneling
• Push down product recipes and operating parameters from a national control center
• Monitor real-time production trends and process performance
• Set alarms around real-time trend data
• Share and distribute TAGS with upstream control systems
• Track and monitor local changes made on the equipment
Companies in this article