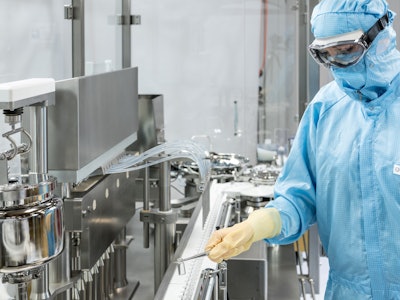 At Achema 2018, Bosch presents a new, modular flexible processing system processing system that minimizes product loss via its conical vessel shape
for the economic production of injection solutions. The design allows the system to be expanded with additional process vessels, and modules to be flexibly exchanged.
Bosch subsidiary Pharmatec was involved in designing the SVP250 LF. The seamless transport of the product from the processing machine to the ALF 5000 filling machine can be tracked using LED visualization.
Bosch will show how data from the processing and filling machines is fed into a single system and visually displayed in an Industry 4.0 application.
The SVP250 LF processing system on display is designed for injection solutions (small-volume parenterals) with small batches ranging from 15 to 250 L. The system includes both a preparation and a storage vessel. Depending on the desired volume, these process vessels can be expanded to four each, in a range of different sizes. The vessel's conical shape minimizes product loss during the emptying process.
The preconfigured architecture allows processing modules to be easily and flexibly installed or exchanged, for instance for different temperature-control concepts or the feeding of different media like powders, liquids or gases. Liquid ingredients are automatically dosed by a pump. Since the process vessels are equipped with a gassing module for nitrogen, production can also take place under low-oxygen conditions.

Complete separation of technical and cleanroom area
The system features a module for two-stage sterile filtration for aseptic preparation, which is situated between the preparation vessel and storage vessel. It is also equipped with an optional laminar flow hood, which generates a low-turbulence air flow to prevent particles from entering the filling area. An integrated cleanroom wall completely separates the process vessels from the system's technical area. As a result, the cleanroom area is compact and easily accessible. Between production batches, an integrated CIP module cleans and sterilizes the system. For applications involving highly potent APIs, a containment flap is used, which also allows aseptic processing.

In line: communication between processing and filling machines
At Achema, Bosch will showcase a sample line configuration consisting of an SVP preparation system and ALF 5000 filling and closing machine. The liquid product is directly transported from the storage tank to the filling machine. Preconfigured concepts ensure that even special products like suspensions can be safely transferred with minimal product loss. The ALF 5000 continues to process the fluid immediately.
Production on the processing system is digitally controlled, as a higher-level control system communicates with the preparation system and monitors the entire process. The processing and filling machines exchange information through their HMIs, allowing them to coordinate each batch. Data on the machine status or process parameters from both systems can be recorded, stored and visualized, which leads to improved transparency in production and shorter response times. The primary goals are optimal production planning and maximum capacity utilization.

Filling system for high process reliability
In addition to its suitability for Industry 4.0 applications, the ALF 5000 filling and closing machine delivers process reliability and flexibility. In the combi configuration, the machine not only processes ampules but also injection bottles. It can be equipped with all standard filling systems and 4, 6, 8, 10, or 12 filling heads. A carrying walking beam system can be used for gentle handling. Here, the glass containers are lifted slightly to ensure they are not damaged by rubbing along the machine guides. Without sacrificing product quality, the ALF 5000 delivers output rates of up to 600 containers/min.
The machine can be variably integrated into existing production processes and, just like the processing system, can be flexibly adapted to meet specific customer needs. The system can easily be combined with upstream or downstream machines.
Companies in this article