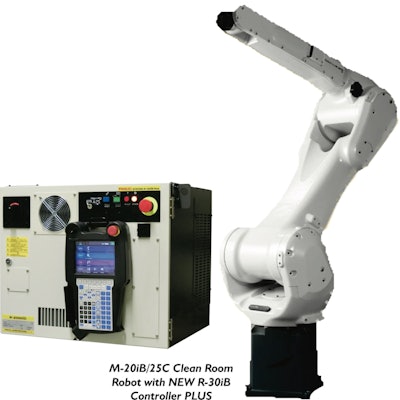 ESS has redesigned their Robotic Mini Pallet Cell to incorporate FANUC's new clean class M-20iB/25C robot. The clean class and food-grade robot is ideal for settings requiring a high degree of cleanliness.
With payloads of up to 25kg (55 lb) and a reach of 1853 mm (73 in.), the M-20iB/25C offers a compact palletizing robot that meets clean class requirements. ESS integrates the robot in a PLe-rated enclosure that houses the robot as well as the new the Model R-30iB PLUS A-cabinet robot controller.
The new R-30iB PLUS controller features a redesigned iPendant with an enhanced screen resolution and processing capability. The user interface, iHMI, has an icon-based screen that provides a familiar and easy-to-use experience with intuitive guides for setup and programming. The front panel of the stackable controller A-cabinet fits flush with the PLe-rated interlocked and gasketed safety guarding system to create a streamlined robotic cell that does not require additional floor space for the robot controller.
ESS designs the custom end-of-arm tooling (EOAT) and programs the cell to handle one or more cases per pick as well as optional deck sheet placement. ESS also integrates the pallet cell with OEM off-the-shelf serialization systems to allow pharmaceutical manufacturers to meet upcoming FDA requirements for track-and-trace. The complete palletizing system includes a case infeed conveyor, the robot, robot base, EOAT, steel pallet position, controls and programming. The Robotic Mini Pallet Cell is available in single and dual pallet configurations and can palletize up to 20-25 cases/min.
Companies in this article