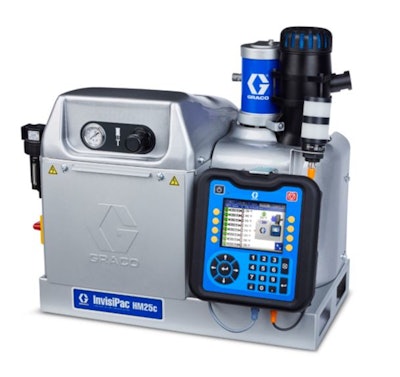 Graco Advanced Fluid Dispense (AFD), a producer of fluid handling products and systems, announces the newly designed InvisiPac® HM25cTank-Free™ Hot Melt Delivery System, ideal for reducing adhesive costs and boosting factory production in packaging applications. The InvisiPac HM25c features a compact size and form factor that easily integrates into existing packaging lines, with no need to reconfigure packaging lines due to space constraints.
With the redesigned size and form factor, companies can quickly switch their hot melt dispense systems to InvisiPac HM25c and start realizing benefits. InvisiPac's reliability increases packaging line productivity and boosts savings by eliminating adhesive char produced by tank-based systems. The new InvisiPac HM25c system also alerts operators when material usage is out of desired range and provides real-time performance reports and notifications that ensure packaging lines keep moving.
With all the advantages of the original InvisiPac Tank-Free Hot Melt Delivery System, the HM25c features numerous advancements. An improved fill configuration uses intelligent technology that automatically adapts to the fill rate needed for the application. Operators no longer need to calibrate, configure, and set up the fill operations. Graco also improved the feed system, reducing overall air consumption by incorporating the shaker into the adhesive feed vacuum. The design features innovative vibration arms that feed from the center of the hopper, breaking down adhesive pellets that bridge or clump up to one side.
With no tank char, no nozzle plugging, and warm up times of less than 10 minutes, the InvisiPac system is a proven alternative to traditional hot melt tanks in any packaging application. Based on a comprehensive system approach, the design incorporates an integrated vacuum feed, state-of-the-art tank-free melter, superior heated hoses, an innovative applicator, and next-generation process control technology that provides easy, remote system analytics. At the heart of the innovative technology is the tank-free design, which reduces the amount of time adhesive spends at high temperatures, ultimately reducing char and degradation.
Companies in this article