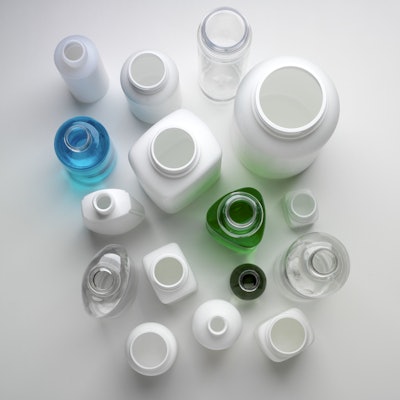 Amcor Rigid Plastics, producer of rigid plastic packaging, has expanded its compression blow forming (CBF) platform with a new 20-cavity CBF machine for production of HDPE pharmaceutical bottles at its Youngsville, NC. facility.
The CBF20 machine, supplied by Italy's Sacmi Imola SC, manufacturer of compression molding equipment for closures, provides the same processing and performance benefits as the 12-cavity CBF12 while meeting the high-production requirements of pharmaceutical customers.
For Amcor, the CBF20 represents "an unprecedented accomplishment in terms of the level of production on one mold that further reinforces compression blow forming's position as a breakthrough process for the production of pharmaceutical containers." It delivers high-quality, reliable, and defect-free parts, at a higher production level, yet with the same footprint as the CBF12. The new CBF20 provides annual production output of 80-90 million containers per year.
Amcor originally collaborated with Sacmi—the original developer of the process—to adapt the unique technology for pharmaceutical packaging. In 2012, Amcor and Sacmi announced the commercialization of the industry's first CBF machine for the production of rigid HDPE pharmaceutical bottles. Amcor also announced an exclusive arrangement with Sacmi to utilize the technology in select market segments and global regions. Since 2012, Amcor has operated multiple CBF12 units to produce over-the-counter and prescription pharma bottles at its Youngsville facility. The CBF20 started up this past summer for production of a solid oral dose HDPE container.
The CBF20 offers several enhancements in terms of processing efficiency and improved mold life. The 20-station CBF unit went from a vacuum-fed material handling system to a gravity system for faster processing and reduced scrap. Mold life was improved through extensive mold design engineering enhancements. Downstream operations such as vision inspection, leak detection, and plasma coating were also enhanced to match the increased production.
CBF is a breakthrough process that combines compression molding and blow molding. It is designed to deliver advantages over conventional processes, and provides enhanced quality, higher productivity, sustainability benefits, and the potential for lightweighting.
In compression blow forming, material is extruded, cut, and transferred into the compression cavity. A preform is produced and a pre-blow and full-blow process is completed in the same mold station with no transfer of the preform. Compression blow forming has no manifold for melt distribution to individual separate cavities, which results in better quality parts because there are no temperature differences and less chance of resin burn and degradation. The process delivers less particulate contamination and due to the continuous extrusion process with simple melt channel, resin and color changes are also quicker.
The pre-blow process allows for effective separation of plastic from the compression core. This reduces the chance of plastic sticking to the metal core rod, resulting in more uniform wall thickness distribution.
Weight distribution is also better controlled with compression blow forming. The weight of the resin shot is controlled for all cavities with a servo-controlled melt pump, resulting in more accurate part weight distribution across all mold cavities. The process also operates at lower temperatures, which results in lower residual stress in the end product and reduced cycle times.
Key sustainability advantages include a significant energy reduction through lower process temperatures and application of updated machine process improvements. The process achieves thermodynamic stability quicker and makes production bottles within 10 minutes from machine start-up.
Companies in this article