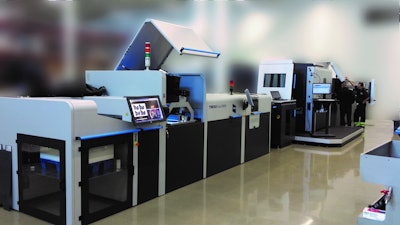 AVT, a supplier of print inspection, print process control, andquality assurance, will introduce an extensive roster of new solutions for HP Indigo digital presses.
These include the debut of Apollo 30K, designed for the HP Indigo 30000 Digital Press for folding cartons, featuring a dedicated end-to-end solution for 100% sheet inspection with various workflows—including both full sheet ejection and single pack ejection for optimal quality and automation.
Also, the Helios S Turbo on the new HP Indigo 8000 Digital Press for labels and the Apollo 20K system on the HP Indigo 20000 Digital Press for flexible packaging, offering 100% inspection and advanced workflow options.
Designed for the HP Indigo 30000, the Apollo 30K is a comprehensive, easy-to-use quality control solution incorporated into the press' Tresu inline finishing system. Apollo 30K provides a complete process control and quality assurance package, combined with the ability to detect any imperfection. It automatically ejects defective sheets, and can track and remove individual packages at the end of the production line, ensuring optimal quality and automation.
Helios S Turbo offers 100% inspection and advanced workflow options on the new narrow web HP Indigo 8000 Digital Press, which doubles the speed and productivity of its predecessors. Helios S Turbo provides high-resolution, 100% inspection at high press speeds, and can be installed at the end of either the press itself or its finishing system. With AVT's ZeroSet setup feature, users of the AVT systems can setup and auto initiate inspection jobs from the ESKO automation engine.
Providing quality assurance and process monitoring, Helios S Turbo detects any imperfection, alerting operators at an early stage to maximize product quality and minimize waste. The system is equipped with other essential modules for various needs, such as job content verification; DeltaE color monitoring; barcode and variable codes verification; and inspection of all type of substrates, including holographic foils.
Companies in this article