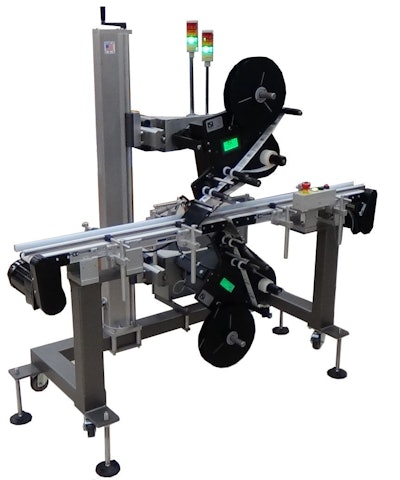 ID Technology, powered by Pro Mach, released the LSI i-Series of labeling systems. The LSI Model 1800i Labeling System applies top-and-bottom labels at speeds up to 120 products/min.
Rugged yet simple and economical, the system features two ID Technology ST1000 Labeling Heads for 1 in. to 5 in.-wide labels at label lengths up to 10 in. The system is equipped with two conveyor belts, end to end, each measuring 8-in.-wide x 3-ft-long. The 1800i can easily integrate into existing production lines.
The 1800i uses variable frequency AC drive controllers for the two conveyors. Operator control station has start, stop, emergency stop and power on indicator light. The system does not require factory air.
For overprinting, an ID Technology Compact 32D Thermal Transfer Overprinter can be added as an option.
The LSI by ID Technology Model 1800i Labeling System is the new standard for operations that require a reliable top-and-bottom labeler with consistent labeling accuracy.
Companies in this article